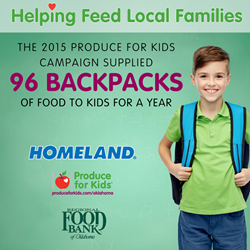 In 2015, the Produce for Kids campaign was able to supply 96 kids with meals for an entire year through Food for Kids.
OKLAHOMA CITY (PRWEB) June 15, 2016
The healthy eating-focused Produce for Kids® campaign with Homeland stores launches May 31 and will raise funds for the Regional Food Bank of Oklahoma's Food for Kids programs. The program offers Homeland shoppers healthy meal solutions, recipes and tips. In 2015, the campaign was able to supply 96 kids with meals for an entire year through Food for Kids.
The Homeland and Produce for Kids campaign, which will run through June 30, is supported by five participating fresh fruit and vegetable suppliers. Homeland grocery shoppers are encouraged to support these brands by eating more nutritious fruits and vegetables. Shoppers can join the Homeland Produce for Kids event group on Facebook to receive real-time updates on campaign happenings and sweepstakes.
"At Homeland, our mission is not only to provide our customers with a fresh and healthy experience every time they enter our stores, but to also create strong local communities," said Alyson Fendrick, registered dietitian at Homeland. "We are proud to partner with Produce for Kids on an effort that encourages our shoppers to introduce fresh fruits and vegetables to their families while supporting local children in-need."
In-store displays and signage, featuring the Produce for Kids and Feeding America logo, will be displayed in Homeland produce departments for the duration of the campaign. The signage will direct shoppers to http://www.produceforkids.com/oklahoma, which features more than 200 registered dietitian-approved and family-tested recipes, meal planning tools, grocery store-specific campaign details, and healthy tips from real parents. Additionally, shoppers will be encouraged to share their own healthy recipes and ideas during the campaign using the hashtag #produceforkids.
Suppliers participating in the Homeland and Produce for Kids campaign include: Avocados from Mexico – Mexican Hass Avocados, Green Giant™ Fresh Iceberg Lettuce, Delano Farms Company Table Grapes, The Produce Exchange -Victory Garden® Grape Tomato, and RealSweet® Vidalia® Onions.
"We are proud of our longstanding partnership with Homeland stores to educate families about the benefits of eating nutritious produce," said John Shuman, president of Produce for Kids. "We are extremely proud of the $5.7 million we have raised thus far to support children and families nationwide and are excited to partner again with Homeland to help put an end to hunger."
Every $200 raised will support a child in Food for Kids for an entire school year. Last school year, the Regional Food Bank provided the equivalent of 3.2 million meals to chronically hungry children through Food for Kids childhood hunger programs: the Backpack Program, Kids Cafe, Summer Feeding, and School Pantries.

Through the Backpack Program, children receive a backpack full of kid-friendly, non-perishable and nutritious food on Friday to sustain them over weekends and school holidays. During the 2015-16 school year, nearly 18,500 students in 514 schools participated in the Backpack Program.
The School Pantry Program provides chronically hungry middle and high school students with food to sustain them after school and over weekends. The School Pantry Program ended last school year serving nearly 5,000 students in 143 middle and high schools.
The afterschool and summer program provides food, mentoring, tutoring, and a variety of other activities to more than 6,300 at-risk children at 26 sites in central and western Oklahoma.
For more information about the Homeland and Produce for Kids campaign, visit http://www.produceforkids.com/oklahoma.
# # #
About Produce for Kids®
Produce for Kids® is a philanthropically based organization that brings the produce industry together to educate consumers about healthy eating with fresh produce and raises funds for local children's non-profit organizations. Since its creation in 2002 by Shuman Produce Inc., Produce for Kids has raised more than $5.7 million to benefit kids. To learn more about Produce for Kids and healthy eating, visit http://www.produceforkids.com, Facebook, Twitter, Pinterest or Instagram.
About Homeland Stores
HAC Inc. owns more than 33 Homeland Stores operating throughout Oklahoma, Texas and Kansas. As Oklahoma's largest Employee Owned grocery store chain they employ over 4,000 associates. Since 2003 the company has experienced steady growth through improving their stores, and acquisitions. The focus is on offering their customers a fresh alternative and STAR customer service. Other services they offer include Western Union, payroll check cashing, lottery tickets, and gift cards. HAC, Inc. is headquartered in Oklahoma City, OK.
About the Regional Food Bank of Oklahoma
The Regional Food Bank of Oklahoma is the state's largest private domestic hunger relief organization. The nonprofit provides enough food to feed more than 116,000 hungry Oklahomans each week through a network of more than 1,200 schools and charitable feeding programs in 53 central and western Oklahoma counties. Since its inception in 1980, the Regional Food Bank has distributed nearly 600 million pounds of food to feed Oklahoma's hungry. For more information, visit http://www.regionalfoodbank.org; find us on Facebook at http://www.facebook.com/regionalfoodbank or follow us on Twitter at http://www.twitter.com/rfbo.