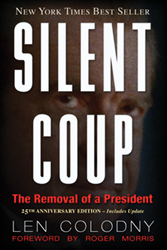 Let's talk a little bit about what "Silent Coup" is and is not. First it is not a "Watergate" book. It is the story of the "Nixon Coup" that actually took place on August 9th 1974. That the Watergate story was used to pull off the "Coup."
Walterville (PRWEB) June 16, 2016
A new article at History News Network (HNN), examines Bob Woodard's secret connections to the principals in the spy ring, a scandal that was first exposed in depth in the 1991 book, Silent Coup by Len Colodny and Robert Gettlin.
A new updated edition is being released by TrineDay on June 17, the day of the original Watergate burglary, which commenced President's Nixon's long downward spiral.
"Let's talk a little bit more about what 'Silent Coup' is and is not. First it is not a 'Watergate' book. It is the story of the 'Nixon Coup' that actually took place on August 9th 1974. That the Watergate story was used to pull off the 'Coup' is true as is the fact that Nixon worked with Dean to cover it up," according to author, Len Colodny
The first section of "Silent Coup" is the formation in 1969 of a military Spy Ring in reaction to Nixon setting up a "secret government".
Colodny says, "The key members were Admiral Moorer, Admiral Robinson and later Admiral Welander. The person inside the White House working with the ring was Al Haig. Three of them Moorer, Welander and Haig had important ties to Bob Woodward."
Larry Berman's book "Zumwalt" has called "Silent Coup" the "Seminal Work on the Spy Ring". So start in the beginning by visiting the Military Spy Ring section of our web site: http://www.watergate.com/Military-Spy-Ring/Military-Spy-Ring.aspx.
"Silent Coup" Web site: http://www.watergate.com/SilentCoup/SilentCoup.aspx
The author is available for limited interviews, please contact Julia Cox at julia(at)trineday(dot)net
https://www.netgalley.com/widget/open?widget_id=87780_82235_146599446257614cdebc1ba_9781634240536_US
###