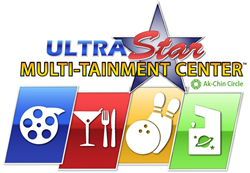 Maricopa, AZ (PRWEB) June 15, 2016
The UltraStar Multi-tainment Center at Ak-Chin Circle invites dads from all over the Valley to come and enjoy an exclusive Father's Day buffet and entertainment specials featured all day June 19th.
Dads can drop into UltraStar's award-winning 347 Grill with the family between 10 a.m. and 2 p.m. to enjoy a buffet with items like fried chicken and house-made meatloaf to a variety of desserts. Adults can dine for $18.95 per person, children ages 6-12 can dine for $14.95 and guests five and under are free.
Over at the entertainment side of UltraStar, dads can enjoy a free game of bowling as well as a free upgrade to UltraStar's Star Class experience. Dads out for a family day out or date night can purchase a regular theater admission and receive an upgrade to UltraStar's exclusive 21 and over auditoriums upstairs which include in-seat dining and comfortable luxury seating.
For Father's Day, special occasions or any spontaneous night of the year, the UltraStar Multi-tainment Center provides an array of dining experiences and entertainment from bowling and laser tag to the latest blockbuster hits in D-Box and state-of-the-art high definition.
For more information on Father's Day events at UltraStar, visit http://www.UltraStarAkChin.com.
About UltraStar Multi-tainment Center at Ak-Chin Circle:
The UltraStar Multi-tainment Center at Ak-Chin Circle, an enterprise of the Ak-Chin Indian Community, is operated by California-based UltraStar Cinemas. UltraStar Cinemas is recognized for pioneering the digital age of cinema. They are the first theater group in the world to be fully equipped with Pure Digital Cinema® powered by DLP Cinema® technology in all of their locations. The UltraStar Multi-tainment Center at Ak-Chin Circle features "One stop, non-stop entertainment." Guests experience adventure, competition, entertainment and relaxation all conveniently located under one roof. The Multi-tainment Center features state-of-the-art digital theaters, bowling, dining, sports lounge, live entertainment, laser tag and arcade gaming as well as corporate and private event facilities. It is located at 16000 Maricopa Rd., Maricopa, AZ. http://www.ultrastarakchin.com
About Ak-Chin Indian Community:
The Ak-Chin Indian Community is nestled into the Santa Cruz Valley of Southern Arizona. The Community lies 35 miles south of Phoenix in the northwestern part of Pinal County. Ak-Chin is an O'odham word translated to mean "mouth of the wash" or "place where the wash loses itself in the sand or ground." Ak-Chin has an enrollment of more than 1,022 tribal members and a land base of just over 22,000 acres. The Ak-Chin Indian Community has a variety of business enterprises including Harrah's Ak-Chin Casino, Ak-Chin Southern Dunes Golf Club, UltraStar Multi-tainment Center at Ak-Chin Circle and Santa Cruz Commerce Center. For more information, visit http://www.ak-chin.nsn.us.
Media contact:
Christine Holtz
Phoenix Marketing Associates
602-282-0202
XXX