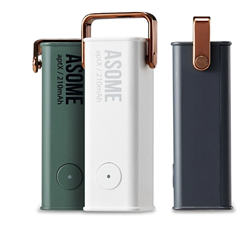 Menlo Park, CA (PRWEB) June 15, 2016
Visionscape, a leader in bringing new wearable technology to market, announced the availability of the ASOME long-range, long life wearable Bluetooth audio device. Powered by an advanced Bluetooth engine, ASOME liberates smartphone users from their devices with crystal clear audio for up to 50 feet and 10 hours.
"ASOME frees people from having to hold their smartphone to enjoy music and make calls," said Won Yoo, Business Development Director. "It simply and elegantly delivers a better audio experience."
In addition to freeing users from their devices, ASOME is also a wearable fashion statement. ASOME is offered in a variety of colors and can be worn on a necklace, hook, or clip. By losing the requirement to hold your smartphone while listening to your headphones, ASOME allows for users to have a free-range option for listening to music.
ASOME uses Bluetooth V4.0 to process data at an incredibly low energy rate enabling music streaming for up to 10 hours at a distance of up to 50 feet. It also uses aptX compression technology for superior audio fidelity.
ASOME has been brought to life with Visionscape, a comprehensive project management company that specializes in loT and wearable products. Visionscape designed ASOME in collaboration with Korea's Jung-ho Choi Studio, one of the country's most innovative design studios.
ASOME pricing starts at $49 and is currently available for purchase through Indiegogo.
Discover more about ASOME by visiting https://www.indiegogo.com/projects/asome-make-your-audio-devices-bluetooth#/ or http://www.getasome.com/.
###