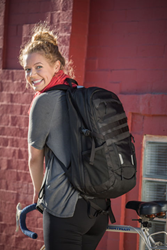 Our concept is that the Klifit Backpack both manages and securely protects the items to enhance the productivity.
Los Angeles, CA (PRWEB) June 21, 2016
Klifit, the world's smartest backpack, today launched its crowdfunding campaign on Kickstarter.
Klifit helps users on-the-go keep track of what they're carrying and need each day through an interconnection with their smartphones, a sensor that keeps track of their personal items, an internal charger for their electronics and a special 'lock-down' feature for added security when they travel in or out of town.
"Klifit began with a small thought to create a network connection between a backpack and smartphones so that it can help us effectively manage our daily lives," said Klifit Founder and CEO Joseph Park. "Our concept is that the Klifit Backpack both manages and securely protects the items to enhance the productivity. In short, people will know exactly what they're carrying so they don't have to fumble around to find an important item or forget to put in into their Klifit before they leave the house."
In addition to 'syncing' with the user's smartphone, the Klifit also has a unique lock-down feature that allows the user to secure the Klifit to a chair or other stationary object if they have to step away for a quick phone call, restroom break or any other issue or distraction where they have to leave their backpack for a few minutes.
Other features, highlighted on this video, include:
*Bluetooth Locker – A locking mechanism for the backpack and all the items inside altogether
*Item Tracker – A smartphone syncing app that helps people manage what is in their backpack
*AI System – A similar syncing app that notifies what to bring on each day.
*Item Managing System – A device that organizes the user's schedule and items needed each day
*Lifetime Guaranteed – Offered because the backpack is made with the strongest fabrics and materials
*Klifit Software – Software that continuously upgrades to better versions.
Park, along with Klifit Chief Design Officer Young Kim, got the idea from two incidents that occurred early in 2015: Park's observations after the theft of a backpack in a library, and the $80 lockout fee that Young had to pay because she left her keys in the house.
"We really created Klifit to help people navigate through their daily journeys with more efficiency, comfort and security – and offer a unique and modern backpack in today's world of wearable technology," Park added. "With Klifit, we've brought together smartphone technology, design, and safety to create a world-class backpack that will keep people in great company wherever they go."
Klifit is launching with early-bird discounted prices on Kickstarter. For more information, visit: https://www.kickstarter.com/projects/klifit/the-worlds-first-backpack-that-manages-your-day
About Klifit
Klifit is an American company headquartered in Los Angeles, California. Founded by Joseph Park and Young Kim in 2015, the company is known for its products of the same name – which includes backpacks, along with other wireless-enabled wearable technology. For more information, visit http://www.klifit.com – or like Klifit on Facebook.