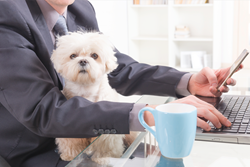 We've had dogs, cats and fish at our office over the years and they have been a source of joy and a real morale booster.
Greenwich, CT (PRWEB) June 15, 2016
According to APPA's National Pet Owner's Survey, eight percent of all U.S. pet owners are allowed to bring their pet to work. To further support pets in the workplace, here is a look at convenient products that will help Fido have an enjoyable experience in the office and make it easy for pet owners to bring along their furry colleagues.
"At APPA we proudly embrace offering a pet-friendly workplace," said APPA Executive Vice President & COO Andy Darmohraj. "While this does not work for all companies, studies have shown that pets reduce stress which can ultimately increase productivity. We've had dogs, cats and fish at our office over the years and they have been a source of joy and a real morale booster."
If your company allows pets at work, these products might be useful in helping pets adjust to this new atmosphere.
Having a gate in your office or workspace can help with co-workers that may not want direct interaction with the pet, but need to talk. They are also helpful in making sure a pet does not leave the office if they tend to wander. Cardinal Gates makes a variety of gates that will work for a variety of office settings. They range from auto-lock door gates to freestanding panel gates. http://www.cardinalgates.com/pet-gates.html
Food and drink for pets is made easy with this Adjustable Pet Feeder by Dexas. It's easy to swing open the legs and pop open the bowls for use, then collapse flat at the end of the day. The elevated position of the bowls eliminates stress placed on joints caused by leaning while eating. It's important to remember food and especially water when bringing a pet to the office. http://store.dexas.com/adjustable-pet-feeder/
The Pocket FurrFighter is a useful product for pets that shed. Simply fit it over a couple of fingers and swipe over clothing for instant hair removal. They are machine washable and reusable too! They fit easily in a pocket or purse and are perfect before heading into a meeting, should pet hair be an issue. http://www.furrfighters.com/
Keeping pets occupied for eight hours can be difficult. Luckily, YakyCHURRO from Himalayan Corporation is a chew that can keep dogs busy for hours. It's made in the USA and comes in three delicious flavors: Fish, Vegetable, and Himalayan Cheese.
https://www.himalayandogchew.com/products/yaky-himalayan-dog-treats
It's important to remember a leash and a pet bed (if applicable) as well to better ensure a pleasant experience. Above all, it's important to know your pet and to decide if he/she is a good fit for the office and if the pet is comfortable interacting with strangers. Also, make sure to check with employers ahead of time to ensure they are agreeable to pets in the workplace. For more information, images or interview opportunities, please contact Jamie Baxter at 775-322-4022 or Jamie(at)theimpetusagency(dot)com.
-###-
The American Pet Products Association (APPA) is the leading trade association serving the interests of the pet products industry since 1958. APPA membership includes more than 1,200 pet product manufacturers, their representatives, importers and livestock suppliers representing both large corporations and growing business enterprises. APPA's mission is to promote, develop and advance pet ownership and the pet product industry and to provide the services necessary to help its members prosper. APPA is also proud to grow and support the industry through the following initiatives: Pets Add Life (PAL), the Human Animal Bond Research Initiative (HABRI), The Pet Leadership Council (PLC), the Pet Industry Joint Advisory Council (PIJAC) and the Pet Care Trust. Visit http://www.americanpetproducts.org for more information.