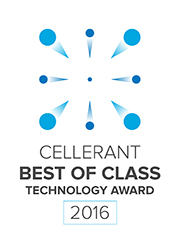 "The award winning companies are creating new norms for how dental practices should operate today and will in the future." Dr. Lou Shuman, "Best of Class" Founder.
Portland, Oregon (PRWEB) June 15, 2016
The Cellerant "Best of Class" Technology Award leads the dental industry's evolving conversation about dental technology through its recognition and education around excellence in dental innovation.
"Best of Class" honorees are chosen by a panel comprised of leading voices in dental technology, who come together each year to discuss, debate and decide what products merit top recognition.
"To be honored as 'Best of Class' is a sign that a product has revolutionized, simplified or advanced its category in a distinctive way," said Dr. Lou Shuman, "Best of Class" founder. "The award winning companies are creating new norms for how dental practices should operate today and will in the future."
All technology categories are considered, but if there is no clear differentiator that sets a product apart in its category, then no winner is selected. Panelists who receive consulting compensation from dental companies are prevented from voting in that company's category.
"One of the things I appreciate most about being part of the 'Best of Class' process is that it represents more than just a thought exercise on what technology should do or what seems cool. We are all dentists still active in clinical practice," said panelist Dr. Marty Jablow. "When we decide that a product should be honored, it is because we see the value it brings to dentists and patients in a real-world context, and that matters to the dental professionals who use lists such as this one in their research and purchasing decisions."
Winners will receive their awards at the "Tech Expo" during the 2016 American Dental Association's Annual Meeting. Tech Expo courses at last year's 2015 meeting sold out. This year's event will be held Oct. 20-23 in Denver, CO.
The "Best of Class" Technology awards were launched in 2009 as a new concept to provide an unbiased, non-profit assessment of available technologies in the dental space. Through print and digital media coverage, the "Best of Class" message reaches a community of over 150,000 dentists through multiple touch points in print and online educating them about the products.
WEO Media is the first Oregon based company to win this award.
About WEO Media
WEO Media is a full service dental marketing agency that helps dentists acquire new patients and retain existing patients. WEO Media services include custom websites, mobile websites, search engine optimization (SEO), pay-per-click (PPC), social media management, online reputation management, online patient reviews generation, video production, patient education videos, direct-to-consumer marketing (mailers, radio, print, TV), patient newsletters, photography, graphic design, branding, marketing consulting, and more.
WEO Media is endorsed by industry leaders such as Nobel Biocare, Seattle Study Club, Burkhart Dental, state dental associations (Texas, Arizona, Oregon), and is a Google Certified Partner Company.
Founded in 2009, WEO Media has been recognized as a highly innovative company focused on providing tremendous value to its clients. As a result, WEO has grown rapidly and services dental practices across North America. WEO Media is based in Portland, Oregon and is privately held.
Contact:
Ian McNickle, MBA
Co-Founder & Partner
(888) 246-6906
ian(at)weomedia(dot)com
5331 SW Macadam Ave, Suite 216
Portland, OR 97239