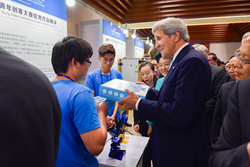 Why choose IroBot as a gift IS because IroBot iS nearing compeletion and such a innovative robot kits for children's education is very special.
Beijing, China (PRWEB) June 20, 2016
Qiu Bing Hui, a young Chinese inventor, presented the IronBot to the United States Secretary of State John Kerry and Chinese Vice Premier Liu Yandong at the Seventh Annual U.S.-China Consultation on People-to-People Exchange. The IronBot won third prize in the China-US Young Maker Competition 2015 and became the central product for his startup.
The IronBot kit was developed by Qiu Bing Hui and his teammates for the China-U.S. Young Maker Competition last year. The prototype took three days to create and was optimized over the course of a year. The kit was designed to let children eight years of age and older assemble three current, high-tech progressive robots on their own: a "Robot Arm," a "Biped Robot," or a "Humanoid Robot." Children can even control their IronBot through Bluetooth with a dedicated smartphone application. What's more, a smartphone can even be used to act as the "brain" of the IronBot so that people can interact with it, and children can freely design their own robot's name, personality, voice, and expression through Xlink graphical programming to create an IronBot friend with its own unique characteristics.
The idea for IronBot was derived from the robots Qiu Bing Hui always loved as a child. He liked watching Transformers and damaged many household appliances, but because of limited access, he didn't get to see a real robot until high school. From this, he wanted to make a product for children to give them the chance to interact with robots from an early age, and even make robots themselves. The IronBot makes this possible, and even has the added benefit of helping children learn STEM subjects (Science, Technology, Math, and Engineering), practice these skills, and enhance their logical thinking processes.
IronBot is currently running an IndieGogo campaign here: https://www.indiegogo.com/projects/ironbot-the-kid-next-door-kid-s-mate--2#. The early bird price for the standard kit is $89, and they have reached over 80% of their goal. All orders will be shipped beginning in September.
Video: http://www.youtube.com/embed/0cZA06bjqCg
About IronBot
The IronBot was developed by Qiu Bing Hui and his teammates for the China-U.S. Young Maker Competition 2015. After spending a year to optimize the product, IronBot is now ready to be sold to households around the globe, enabling children to learn STEM skills and familiarizing them with robotics from an early age. IronBot is currently running an IndieGogo campaign to support manufacturing and further development of the kit.
Media Contact:
Company Name: JornCo
Contact Name: Tao Hu
E-mail: ht(at)ironbot(dot)net
Phone: +86 186 592 03828
Address: 430, No. 39, Wanghai Road
City: Xiamen
State: Xiamen
Country: China
Website: http://www.ironbot.net/