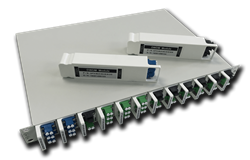 Deliver 4x the bandwidth and 4x the density of traditional PON solutions!
Durham, NC (PRWEB) June 15, 2016
Today, OptiX2 announced the maXimux Next-Generation Passive Optical Network (PON) multiplexer module designed specifically for Next-Generation (NG) PON2. NG-PON2 deviates from existing PON offerings in that it uses DWDM channel spacing and tunable optics at the ONT versus CWDM and fixed optics with existing PON offerings. In addition, each OLT port has one of 4 pairs (4 upstream and 4 downstream) of wavelengths assigned to it, which enables the carrier to drive 4x10Gbps signals downstream on a single fiber using the maXimux NG-PON2 multiplexer. Combining four OLT ports onto a single fiber allows service providers to deliver an unprecedented 40Gbps to a single serving area or distribution point.
"Our NG-PON2 wavelength multiplexer provides a key component in the carrier's solution for driving more bandwidth to the customer. The multiplexer serves two critical functions that go hand-in-hand with each other. The first is to increase the bandwidth by a factor of 4, while the second is to leverage the existing resources, such as the existing fiber plant, and maximize its utilization. Of course, this has to be done within key, carrier-defined performance parameters, which our maXimux NG-PON2 multiplexer does," commented O.J. Johnston, CEO and Co-Founder of OptiX2.
The maXimux chassis can house up to 12 field replaceable NG-PON2 modules. Each module can contain as many as 3 multiplexers for a total of 36 in 1U. In comparison, whether one or three multiplexers are installed in a module, the maXimux provides 4x the density of standard LGX solutions. Additionally, maXimux addresses some of the shortcomings associated with LGX modules, such as the elimination of pushpins for securing modules in a chassis. "With maXimux's SecureFITS (Fastens Inside The System) mechanism for securing the module within the chassis, customers no longer have to worry about pushpins breaking or not aligning correctly with the chassis mounting holes," continued Johnston.
The maXimux NG-PON2 module maximizes performance, reliability, and resource utilization while driving more bandwidth to customers.
About OptiX2
OptiX2 is a leading distributor and manufacturer of active and passive optical networking systems. For more information, about our maXimuxtm NG-PON2 module, please check out our YouTube video here or for more information