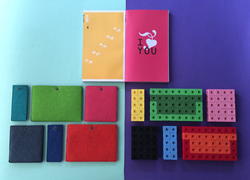 "Based on the playfulness & modular nature of LEGO bricks, we wanted our laptop sleeve to not just be a gadget case, but a futuristic yet minimal exploration of functionality & limitless customization."
New Delhi, India (PRWEB) June 15, 2016
The Fibonacci Sleeve, the world's slimmest and smartest luxury sleeve, is currently live on Kickstarter and raising funds to bring the project to life.
The Fibonacci Sleeve is heavily inspired by LEGO Bricks and allows users to customize and create the perfect sleeve. The product is an exploration in design & craft, expressed primarily through handcrafted premium felt & leather goods. The product reflects a labor of love and an exercise in craftsmanship and ethos of wabi-sabi.
"The massive gap between luxury & affordability motivated us to design a disruptive product like Fibonacci," says founder Nishant Fogaat, "Based on the playfulness & modular nature of LEGO bricks, we wanted our laptop sleeve to not just be a gadget case, but a futuristic yet minimal exploration of functionality & limitless customization."
It all starts with an 'Endoskeleton', or 'Endo', the structural backbone of the product. The user can then add to the Endo with "Modules", the building blocks that make up the vast majority of sleeve's functionality & aesthetics.  Users are able to piece together colorful pieces of material to complete an aesthetic design that matches their personality.
"In order to stand out in the saturated market of sleeves & cases in the gadget & gear market, something like Fibonacci does definitely need to exist, since not only does it bring forth a revolutionary innovative design concept but also empowers users to creatively customize the product," adds Fogaat, "Starting from the possibility to choose the color & materials of sleeves & pockets, to the color of premium fasteners used, customization goes on to even selecting the design of embroidery or laser etching on each sleeve."
Fibonacci is a disruptive product that allows limitless combinations to house the laptop in the sleeve, but also an iPad, cables, shades, documents, notebooks etc. giving users an impeccably organized lifestyle with infinite possible combinations. A bit of imagination is all it takes for the user to piece together the different pieces, materials, and personal gear to create their ultimate carrying sleeve.
The Fibonacci case is a product that inspires creativity in users by offering a fun product that harkens back to the days of arts and crafts, materials and fabrics. A colorful product, the Fibonacci offers as much in functionality as it does in pure aesthetic design.
The Fibonacci is currently live and available to support on Kickstarter: http://kck.st/1U7ek3e
About FOGI Labs
FOGI Labs dreams, desires & does like to use its years of expertise at environment design to create, curate and cultivate disruptive designs, while using their work experience of apparel production & garment technology to its use. Founded by Nishant Fogaat, an alumni to National Institute of Fashion Technology, India has years of experience working with India's biggest export houses (delivering fashion globally for decades) & nothing interests him more than fashion supply chain & entrepreneurship.
###