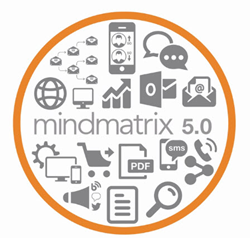 "The days when people used to purchase 'ready-to-use, verified' contact lists are slowing fading away. Social media is taking over as people are more open to sharing genuine contact information on social profiles"
Pittsburgh, PA (PRWEB) June 15, 2016
MindMatrix, the Pittsburgh-based channel and sales enablement software company, has made an exciting new upgrade to its sales enablement platform that brings powerful prospecting functionalities to it. The Mindmatrix platform already offers lead prospecting tools to help direct and indirect sales networks, and this latest upgrade only makes them more powerful.
Mindmatrix is now equipped to extract email IDs from six platforms, including LinkedIn, Twitter, Facebook, Autotask, Connectwise, Salesforce. The prospecting tool is most powerful on LinkedIn, providing users with ANY LinkedIn profile's email ID, regardless of their connection level to the user. The tool automatically updates the LinkedIn contact in the Mindmatrix platform, pulling their name, email ID, company name and any other contact details that their LinkedIn profile holds. The system works the same way for LinkedIn groups. For leads on Twitter, Facebook and other platforms, the prospecting tool pulls the email ID and adds it to the user's contact database in Mindmatrix.
Harbinder Khera, CEO, Mindmatrix said, "The days when people used to purchase 'ready-to-use, verified' contact lists are slowing fading away. Companies are realizing that social media accounts are more likely to have the most recent contact details. Social media is taking over as people are more open to sharing genuine contact information on social profiles. At Mindmatrix, we realized that simply having the best lead nurturing or prospecting tool is not enough. You also need an accurate prospect database. Mindmatrix's Chrome plug-in is an attempt to leverage this goldmine of prospect information available on social media and other platforms, thus ensuring our users the best results for their sales and marketing campaigns."