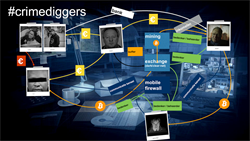 "#Crimediggers is a terrific example of how agencies like Steam are using Cloud 66 to overcome challenging technical hurdles for their clients" Khash Sajadi CEO and cofounder, Cloud 66
London (PRWEB UK) 15 June 2016
Steam.nl, an award-winning employer branding agency based in Amsterdam, is the creative brain behind #Crimediggers, an online gaming experience created for the Dutch National Police force. Including a rich narrative of interactive experiences, the game is part of a recruitment campaign aimed at finding skilled IT professionals wanting to pursue a career in criminal investigative work.
"In a tight labor market, we were challenged with finding a target audience not aware of the opportunities a career in digital forensics could offer" said Hans Kroonen, CEO at Steam. "We had a clear vision of how we wanted to engage with this audience, and knew we needed a complex and multi-faceted gaming application to be at the core of a more traditional marketing drive".
Steam used Cloud 66, a London-based tech startup to build and deploy a Docker container architecture, consisting of several integrated polyglot applications. "The ease of using Cloud 66 to build and deploy #Crimediggers was instrumental to creating a multi-layered, interactive app experience" said Kroonen. Different stages of the game had potential recruits interact with image-based evidence, decode forensics data, solve cryptic hacker alerts and combine their findings with other players to advance through each level.
Since launching, #Crimediggers has had over 100,000 unique visitors and 53,381 registered players, with the fastest 'crimedigger' completing the game in under 2 hours. As a recruitment exercise, the campaign has attracted 1,042 applications to fill 110 open vacancies with the Dutch Police.
"The evolving threats and forensics requirements of a connected world, mean we have a real need for digital skills to help us combat crime" said Barend Frans, Head of the Digital Forensics Team in Amsterdam for the Dutch National Police. "This initiative was all about finding the next generation of digital and financial investigation experts. Creating such a sophisticated technical deployment in support of the campaign would have taken us weeks, if not months to operationalize in-house. The team did an exceptional job, and I'm very pleased with the results".
"#Crimediggers is a terrific example of how agencies like Steam are using Cloud 66 to overcome challenging technical hurdles for their clients" said Khash Sajadi, CEO and cofounder of Cloud 66. "As engineers ourselves, we're very focused on creating the tools needed by developers to help deploy applications seamlessly".
Cloud 66 will present a case study on #Crimediggers as part of London Technology Week 2016 on Thursday 23 June.
[Ends]
About Steam
Steam and employer branding. Inextricably linked. Specialized in finding fitting strategies and innovative concepts that make our clients' brands stand out and motivate their target groups. To learn more about how we help our clients, visit: http://www.steam.nl
About Cloud 66
Cloud 66 specializes in DevOps-as-a-Service for Rails and Docker, enabling developers to build, deploy and manage any application, on any server, via the cloud provider of choice. Offering the convenience of PaaS, with the flexibility of using your own infrastructure, we make DevOps easy with a single, integrated toolkit. To learn more, visit: http://www.cloud66.com
For further press information, photography, or to request an interview, please contact:
Fatih Mehtap
Cloud 66
fatih(at)cloud66(dot)com
+44 (0) 203 603 2601
@cloud66