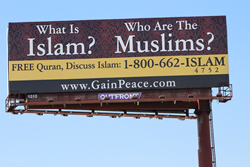 "the billboard has generated numerous calls of support for the Muslim community and commend GainPeace on embarking on a campaign to educate and build bridges."
Chicago, IL (PRWEB) June 16, 2016
GainPeace, an outreach organization in Chicago, has launched an educational campaign using a billboard to invite public to learn about the true teachings of Islam. The campaign will run from June to Aug 16, 2016. The campaign includes a billboard on Islam and Muslim on Highway 294, two blocks north of Highway 290, facing north. GainPeace's campaign is in response to the increasing rhetoric by presidential nominee, Mr. Donald Trump, and the recent mass shooting in Orlando, FL,
As a free offer, the visitors to the website, GainPeace.com, and the callers to the hotline, 1-800-662-ISLAM, can obtain a free copy of the Quran in English and a book on the life of Prophet Muhammad.
Dr. Sabeel Ahmed, director of GainPeace, proclaims: "the billboard has generated numerous calls of support for the Muslim community and commend GainPeace on embarking on a campaign to educate and build bridges." He added: 'Hopefully, by reading from the source of Islam, the Quran, the readers will find that Islam stands against violence, killing and injustice and for justice and preservation of all lives.
Due to the success response to the current billboard, GainPeace is renting two more billboards in Chicago near the Midway airport.
Additional outreach efforts by GainPeace includes sending postcards about 'Muslims in America', 'Myths about Islam' to people's homes, Mosque open houses for neighbors and info tables on Islam at major festivals in the Chicago area.
GainPeace is an outreach project of the Islamic Circle of North America (ICNA). ICNA is one of the largest, non-profit, independent, and grassroots organization of American Muslims with several chapters and affiliates across the nation. ICNA is also a leading American Muslim organization dedicated to the betterment of society through the promotion of Islamic values. Since 1968, ICNA has worked to build relations between communities by devoting itself to education, outreach, social services and relief efforts.
Media Contacts and interviews:
1. Sabeel Ahmed, Director, GainPeace, 847-858-6680, Sabeel(at)GainPeace(dot)com
2. Hafiz Abdul Basit, Public Relations, 312-231-2749, basit(at)GainPeace(dot)com
Sincerely,
Hafiz Abdul Basit
Director of Public Relations, GainPeace - Chicago
Website: GainPeace.com
Youtube: youtube.com/GainPeace
For media files, please see the links below:
1. Billboard Photos: https://www.flickr.com/photos/gainpeace/albums/72157669106476056
2. Billboard Video https://www.youtube.com/watch?v=RMIKpzBKoZE&feature=youtu.be
3. Postcards on Islam - https://www.flickr.com/photos/gainpeace/albums/72157667082405163
4. Mosque open house - https://www.flickr.com/photos/gainpeace/albums/72157666347731686/page2