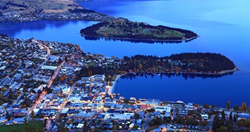 The Auckland and Queenstown Adventure is the ideal introductory tour of New Zealand.
Glendale, CA (PRWEB) June 17, 2016
North America's leaders in Downunder travel, Goway Travel is inviting globetrotters to save over $650 per person on their New Zealand vacation this year.
The Auckland and Queenstown Adventure is the ideal introductory tour of New Zealand, combining the country's most diverse and cosmopolitan city, with its most picturesque resort destination. The trip is one of dramatic contrasts, combining the modern city of Auckland with the country's most impressive mountain landscapes. The trip includes flights from North America, three nights in Auckland, four in Queenstown, a day trip to Milford Sound, a full day of Auckland sightseeing, and airport transfers.
Though inclusions are plentiful, the Auckland and Queenstown trip also offers a full day at leisure in Auckland, and two in Queenstown, allowing guests to explore these cities on their own terms. Frequently cited among the world's most liveable cities, Auckland is the kind of destination that rewards local exploration, while Queenstown spoils for choice with activities including adventure sports, bungie jumping, and nature excursions.
Departures are available from July 1, 2016 to March 31, 2017, with prices starting at US$2069 per person during low season, departing from Los Angeles or San Francisco. Departures from Vancouver start at CA$2549. Many departures include a complimentary night's stay each in Auckland and Queenstown, depending on the season. However, passengers who book by June 30, 2016 will receive a further discount, starting at just US$1799 per person for the first 50 bookers.
Since 1970, Goway has been providing unforgettable travel experiences to Africa, Asia, Australia and New Zealand, polar and idyllic island destinations, Europe and South America. Today Goway is recognized as one of North America's leading travel companies for individuals, families and groups to select exotic destinations around the globe. Goway has offices in Los Angeles, Vancouver, Toronto, Manila, and Sydney (Australia).
For reservations and information, visit http://www.goway.com, or call 1-800-387-8850.