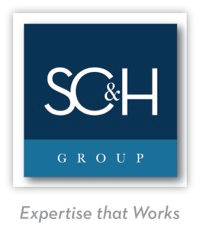 "We have always made giving back a priority at SC&H Group," said Ron Causey, Chief Executive Officer and Co-Founder of SC&H Group.
Baltimore, MD (PRWEB) June 16, 2016
SC&H Group, a leading audit, tax, and consulting firm, recently hosted its 10th Annual Day of Service, which aims to give back to the community through company-wide volunteering efforts.
For the past 10 years, SC&H Group has dedicated its Day of Service to assisting those in need throughout Baltimore and Washington D.C., and is coordinated in partnership with Business Volunteers Maryland.
This year, SC&H Group's team in Maryland volunteered time at Habitat for Humanity ReStore, Howard County Conservancy, Maryland SPCA, Baltimore Museum of Industry, The Baltimore Station, and St. Vincent de Paul. In Northern Virginia, the team volunteered its time at the Arlington Food Assistance Center and the Alternative House.
Volunteers helped with various activities:

Assisting in cleaning and preparing merchandise for sale at Habitat for Humanity ReStore
Removing invasive plants, restoring stream banks, and maintaining trails
Sorting, bagging and preparing donated food items
Working with veterans and others who are transitioning through the cycle of poverty, addiction, and homelessness to self-sufficiency
"We have always made giving back a priority at SC&H Group," said Ron Causey, Chief Executive Officer and Co-Founder of SC&H Group. "The organizations we support provide a positive impact in our communities all year-round, which makes this annual event so important to us, as a firm. Community engagement is baked into our culture, and our people are passionate about doing their part. As a result of our ongoing philanthropic and charitable giving effort, our clients, colleagues, and the community all benefit."
In many cases, employees also volunteer their time with these organizations and others outside of the Day of Service, while also donating to various charities through payroll deductions.
For the 10th annual Day of Service, it was estimated that employees collectively donated more than 500 hours through this event. On average, each SC&H Group professional donates more than 25 hours per year to community service activities.
The firm has maintained a deep heritage in corporate philanthropy and community involvement for 25 years. For example, the SC&H Charitable Foundation serves as a vehicle for collecting and distributing employee charitable donations. The firm also supports the Ronald McDonald House in Baltimore, Junior Achievement, the Susan G Komen Race for the Cure, the Maryland Food Bank, the Fuel Fund of Maryland, the Arc Baltimore, the United Way, and the American Heart Association.
About SC&H Group
SC&H Group is an audit, tax, and consulting firm applying "expertise that works" to minimize risk and maximize value. SC&H Group's practices advise leading companies from emerging businesses to the Fortune 500 on accounting, tax, profitability, and business process solutions. Clients in all states and worldwide benefit from SC&H Group's commitment to delivering powerful minds, passionate teams, and proven results on each and every engagement. http://www.scandh.com