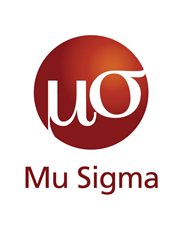 Chicago, IL (PRWEB) June 15, 2016
What:
For all of the strides we have made in science and technology, with standards of living unimaginable a century ago, most human beings and the organizations to which they belong remain in search of purpose. Sadhguru, founder of ISHA Foundation, a non-profit organization dedicated to cultivating human potential, will share his fundamental vision on the science of inner wellbeing at Mu Sigma's annual customer event, "Consciousness 2016." He will discuss the multitude of projects, programs and methods that stem from this vision, all towards the goal of raising human beings and their organizations to the peak of their potential and to be in harmony with themselves and the world.
To be held at the University of Chicago, Consciousness 2016 is an invitation-only event for select Mu Sigma customers and will gather more than 100 Fortune 500 executives from around the world.
When:
Monday, June 27, 2016, 1:10-2:10 p.m. ET
Where:
Mu Sigma's "Consciousness 2016" Event at Gleacher Center, University of Chicago, Downtown Campus (450 N Cityfront Plaza Dr., Chicago, IL 60611)
Who:
Sadhguru is a yogi and a mystic – a man whose passion spills into everything he encounters. Named one of India's 50 most influential people, Sadhguru's work has touched the lives of millions worldwide through his transformational programs. Sadhguru has a unique ability to make the ancient yogic sciences relevant to contemporary minds, acting as a bridge to the deeper dimensions of life. His approach does not ascribe to any belief system, but offers methods for self-transformation that are both proven and powerful.
An author, poet, visionary and internationally renowned speaker, Sadhguru has been an influential voice at major global forums including the United Nations, MIT, Harvard University, the World Economic Forum and TED Talks, addressing issues as diverse as socioeconomic development, leadership and spirituality. Dedicated to the physical, mental and spiritual wellbeing of humanity and gifted with utter clarity of perception, Sadhguru possesses a perspective on life and living that never fails to intrigue, challenge and surprise all those he encounters.
For media interested in covering the keynote, please contact Michi Morales at 1-571-455-9996 or michim(at)gabrielmarketing(dot)com.
About Mu Sigma:
Mu Sigma is a category-defining decision sciences and big data analytics company, helping enterprises systematize better data-driven decision making. The company's interdisciplinary approach and integrated ecosystem of platform, processes and people are redefining how companies approach problem solving in areas of marketing, risk and supply chain. With more than 3,500 decision scientists working across 10 industries, Mu Sigma is consistently validated as the preferred decision sciences and analytics partner for 140 of the Fortune 500. For more information, visit http://www.mu-sigma.com.
# # #