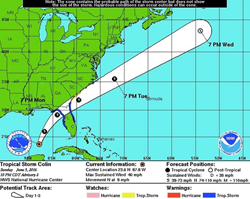 (PRWEB) June 17, 2016
This tropical storm took many by surprise, despite warnings frequently broadcasted on national weather channels and radio stations. Since 2016 boasts the most active Atlantic hurricane seasons in recent times, Colin is merely one of many storms that Americans on the east coast should be preparing to handle. Florida is a vulnerable target for tropical storms, and it's time to take immediate action to protect your home and family from the devastating effects of these storms.
Affected Regions
Tropical Storm Colin made its roots in the Southern Gulf of Mexico, and is moving in an upward path out into the northern Atlantic Ocean. Much of northern Florida resides in the center of Tropical Storm Colin's path, particularly the panhandle region. The storm will make its way through the Big Bend of Florida, affecting Georgia and the Carolinas as it sweeps back out to sea.
Tropical Storm Risks
Tropical Storms are essentially the same a hurricanes, but on a minor scale. A tropical storm becomes a Category 1 hurricane, the mildest varieties, when its maximum sustained wind speeds reach a minimum of 74 miles per hour, capping at 95 miles per hour. Tropical Storm Colin's estimated wind speed clocks in at around 50 miles per hour. While that is substantially less than that of a Category 1 hurricane, the effects still have the potential to be devastating.
The average thunderstorm comes with winds between 34 to 40 miles per hour, creating a stark contrast against Colin's average. This will have especially profound significance for homeowners living in a coastal area, where storms have access to a wealth of water and coastlines are prone to flooding. Properties located on or near water, as well as properties located downhill are most susceptible to damage from water overflow.
The high-grade storm winds also pose additional threats, especially those specifically related to property damage or personal injury from debris that can easily become airborne. Ultimately, it won't make a difference whether a tree flies through your window at 50 miles per hour or 80 miles per hour – the damage will be similar. For this reason, tropical storm risks should be equated to hurricane risks.
Tropical Storm Safety
Check with your local emergency management system to see if your home is located in an area where evacuation is suggested. Homes in heavily wooded areas or homes that are located at or near sea level are most likely to be subject to evacuation orders. If your home is not in a dangerous area, you'll still need to employ some safety measures to protect your family.
Prepare a cache of supplies. This should include flashlights, candles, matches, extra batteries, nonperishable canned goods, a radio for storm alerts, and a first aid kit. Gather the people who reside with you, and ride out the height of the storm in the safest area of you. Many homes in tropical areas do not have storm shelters, but an ideal replacement should be a room without windows, or with a minimal amount of adequately boarded windows.
You may also consider packing important paperwork or documents as well as necessary prescriptions and extra clothing in the event that you'll need to make an unplanned departure from your home. If the situation worsens, you may not have time to gather these things before leaving. It's better to be prepared in case of an emergency.
Protecting Your Home
The best time to prepare for a hurricane or a tropical storm is a few days in advance. Some of your preparations can be stored for later use and set up immediately before a storm, such as proper window boards. Many homes in storm-prone areas are already equipped with metal storm shutters. These should be closed during a tropical storm. If you don't have shutters, you'll want to fit plywood to your windows from the outside, drilling it in with screws set about 1/8 inch apart.
It's important to keep trees adequately trimmed during storm season. If you have trees on or near your property with low hanging branches, these need to be cut and removed from the area before a storm hits. Dead, weak, or dying trees should be removed to prevent the larger issues of entire trees being taken out during a storm. As with trees, loose items such as lawn tools or patio furniture should also be brought indoors.
If your home is at a high flood risk, there's only a handful of things you can do. It's important to purchase separate flood insurance, as the majority of home insurance doesn't cover floods that occur as an act of nature. You may not be able to prevent water from infiltrating your home, but if you have a crawlspace, there may be some steps you can take to prevent severe water damage to the foundation of your home.
Waterproofing a crawlspace generally involves custom-fit industrial grade plastic sheeting to protect wood from rotting. Low crawlspaces may also require special pumps that will draw water out, and a drainage system that funnels it away from the foundation of your home. If you're unsure about how to handle your vulnerable crawlspace and prevent devastating flood damage, contact a water damage specialist to talk you through the process.
Getting the Right Assistance
If you want to protect your home against water damage, mold damage, and flood damage that occur with tropical storms, you may not know where to start. If your home has already been damaged, you need to be proactive about the situation in order to prevent the spread of the damage. Your home should be a safe, dry place where your family can rest with their minds at ease.
At Restoration Local, we understand how important your home and your family are. We're available around the clock to help homeowners who find themselves impacted by a storm locate expert water damage restoration specialists. With contractors on the ground in the majority of the United States, we'll be able to dispatch the right professional for you, and provide you with a free estimate. Every second you wait, the greater the potential for damage becomes. Take your home back.
If you have water damage from this storm or any other event, call Restoration Local 24/7 at 1-888-443-3110 for a free estimate!