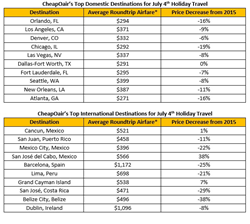 New York, NY (PRWEB) June 15, 2016
CheapOair, a leading flights-focused hybrid online travel agency, announced today the top ten domestic and international destinations its consumers are traveling to for the 4th of July holiday. Data shows that travelers are taking advantage of lower airfare prices, which are expected to last throughout the peak summer travel season.
"Independence Day signifies that the height of the travel season is in full swing. The airline industry is expecting a record-breaking 220 million passengers this year during the summer season – a 15% growth in number of air travelers since 2013, for the same three months of travel," says Tom Spagnola, CheapOair's Senior Vice President of Supplier Relations. "Lower fuel prices and airline capacity growth both play a major role in the decreases in airfare, which results in these record breaking travel numbers."
The largest price decrease seen between 2015 and 2016 for domestic destinations was reflected in bookings for Chicago, IL, showing a 19% overall decrease in airfare costs. CheapOair's data further shows that those who may be looking to pay the lowest price for their trip should consider Atlanta, GA, as a destination, as the average airfare costs $271. Orlando, FL came in as the most popular destination for the holiday, with a 16% decrease in airfare, rounding out at $294.
For international destinations, Cancun was ranked as the number one destination for this time of year but saw a slight price increase of only 1%, adding on $6 from last year's average price. According to CheapOAir data, Belize had the largest decrease in airfare costs by far, dropping a total of 38% since last year, and Mexico City had the lowest airfare for a roundtrip, at a price of $396.
"Capacity growth causes competition between airlines, which drives cheaper prices for consumers." Spagnola adds. "Although summer is peak travel season, consumers should take advantage of the deals becoming available before they miss out on some great travel opportunities."
*The fares referenced are averages, based on bookings made beginning January 1st, for travel anytime between June 26th and July 11th, 2016.
Travelers can sign up to receive daily travel deals to various destinations, including the top Independence Day Holiday getaways for 2016, by making a CheapOair profile at CheapOair.com. For more information, please visit CheapOair.com, CheapOair.com/mobile, or check out CheapOair's Miles Away blog for travel tips and trends.
About CheapOair
CheapOair is a flights-focused hybrid travel agency that enables consumers to book online, on mobile apps, by phone, or live chat. CheapOair (http://www.cheapoair.com, 1-800-566-2345) bridges the gap between an online and traditional travel agency, with certified travel agents available 24/7 to help find deals and offers to destinations worldwide on over 450 airlines, 150,000 hotels, and 100s of car rentals. Partner airlines benefit from access to CheapOair's broad customer base that books high yield international travel and add-on ancillaries at above the industry average. Follow CheapOair on Facebook and Twitter to learn how to travel the world for less.
###