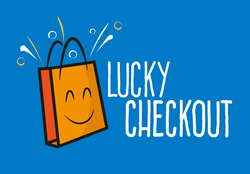 The smartest and most rewarding way to shop online
London (PRWEB UK) 16 June 2016
Savvy shoppers are joining the UK's first and only customer loyalty and reward scheme based on huge monthly cash prizes, which are awarded to members simply for shopping at their favourite online retailers.
That's because they've discovered the Lucky Checkout Club, an exciting and innovative new reward scheme in which shoppers are automatically entered into a monthly prize draw simply for doing their shopping at participating online retailers.
Founded by internet entrepreneur Martin Wright, the Lucky Checkout Club takes the reward retailers pay to attract online shoppers to their site, and bundles it up into a prize draw to win a large amount of money that really could make a difference to people's lives.
"Last year the UK's leading cashback site reported total payments of £50 million paid to 6 million people" says Wright, "which by my calculation works out at just over £8.30 each. I wanted to create something that would be a little more exciting than £8.30!"
Signing up for the scheme is totally free and could not be simpler, merely requiring shoppers to enter their name and email address at the Lucky Checkout website. Thereafter, the scheme is able to detect when the shopper makes a purchase at a participating retailer, and hence is able to automatically enter them into monthly prize draws with no further input required.
"All the clever stuff is done behind the scenes" says Wright, "so that all the shopper has to do is buy the things they were going to buy anyway, then start dreaming about what they would do if they won a large prize. Of course they may find their favourite retailer has not yet joined Lucky Checkout, in which case we ask them to let us know so we can contact the retailer on their behalf."
According to Wright, the Lucky Checkout Club is the smartest and most rewarding way to shop online. "Lucky Checkout is the only reward scheme where you can get back significantly more than you spent", he says "and all you've got to do is shop at our participating retailers. What's not to like about that?"