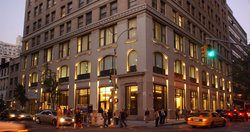 "The workplace experience that externs receive at CDS combined with the top-notch instruction from Cardozo's faculty give participants in the CDLI program a real advantage when it comes to finding full-time employment." Taylor M. Hoffman
New York, NY (PRWEB) June 16, 2016
Complete Discovery Source (CDS), a leading eDiscovery company, is marking the third year of its participation in the Cardozo Data Law Initiative (CDLI) externship program led by the Benjamin N. Cardozo School of Law at Yeshiva University. The CDLI externship program provides law students with hands-on work experience designed to prepare them for a career in information governance, e-discovery, data privacy, social media law, and cybersecurity. The program supplements the university's comprehensive coursework that covers various aspects of data law as taught by top faculty in the field. As a founding member of the program's Board of Advisors, CDS has helped develop a template for the externship program that now includes many of the leading organizations in the data law arena. Matthew Knouff, eDiscovery Counsel at CDS, has sat on the program's Board of Advisors since its inception in 2014 and is the creative force and content director behind CDS' externship.
"CDS understands the need to provide Cardozo law students with hands-on work experience that sets the stage for workplace expectations," said Melanie Leslie, Dean of Cardozo School of Law. "The CDS externship balances the academic program by building practical skills vital for legal careers in the area of legal technology."
Recent Cardozo graduate, Trevor Satnick, participated in the CDS CDLI externship program in 2015. Building upon his experience at CDS, Trevor went on to intern at Swiss Re and Shearman & Sterling. "Working alongside the CDS team, I was not only exposed to eDiscovery technology and best practices, I also took part in interactive meetings with high-profile professionals in the world of legal technology," he said. Among these experts are Ariana J. Tadler, Partner at Milberg LLP, Principal at Meta-E Discovery LLC, and executive director of the CDLI, and Maura R. Grossman, Of Counsel with Wachtell, Lipton, Rosen & Katz and a member of the CDLI Board of Advisors.
Taylor M. Hoffman, a recognized eDiscovery expert, sits on the Board of Advisors for the CDLI. "The workplace experience that externs receive at CDS combined with the top-notch instruction from Cardozo's faculty give participants in the CDLI program a real advantage when it comes to finding full-time employment," Hoffman said. "I've been impressed by the ability of CDLI alumni to quickly start contributing to their teams because of these experiences."
About Complete Discovery Source - eDiscovery
Complete Discovery Source (CDS) is a leading eDiscovery company, providing litigation technology and hosting, advisory services, and managed services to support complex discovery matters. CDS is the first choice of the Am Law 100 and Fortune 500 and is recognized as Best in End-to-End eDiscovery by the National Law Journal and New York Law Journal. With a team of seasoned legal experts and technicians, CDS uses advanced, tested, and defensible services and software to support all stages and types of eDiscovery. Supporting a number of eDiscovery tools, CDS is an Orange-Level Best-in-Service Relativity® Provider and provides one of the largest and highest volume footprints delivering that platform. CDS is headquartered in New York with regional offices in Chicago and Washington DC. The company maintains highly secure ISO 27001 certified hosting and SSAE 16 SOC 1 Type 2 audited data centers in multiple cities.
Complete Discovery Source's web site is http://www.cdslegal.com.
About Cardozo Law
Now celebrating its 40th year in New York City's Greenwich Village, The Cardozo School of Law is known as the birthplace of the Innocence Project and is considered one of the nation's best law schools for the study of intellectual property and information law, as well as for alternative dispute resolution. The faculty is ranked in the top 25 nationally for scholarly impact. Cardozo professors are widely praised for their influential intellectual writings as well as their advocacy and engagement in all matters of social justice, policy and legal debate. Graduate from Cardozo practice in all fields of law and benefit from a curriculum balancing a deep attention to legal theory as well as to its practical application in real world settings. Areas of innovation include the FAME Center for fashion, art, media and entertainment law; the Cardozo Data Law Initiative; The Center for Rights and Justice; and the Cardozo Law Institute in Holocaust and Human Rights. The law school offers approximately 1,100 JD and LL.M. students a comprehensive legal education with partnerships in legal offices and businesses throughout the New York City region. The CDLI is a groundbreaking program designed to prepare law students for careers in the rapidly expanding fields of information governance, e-discovery, data privacy, social media law, and cybersecurity.