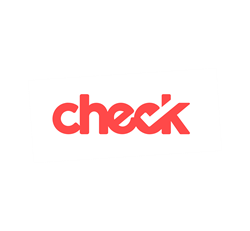 (PRWEB) June 21, 2016
Today, the social media world is oozing with excitement with the announcement of the official release of Check, a social-networking app that allows customers to playfully interact with businesses and be the first to know about special promotions and events. Check is the first mobile social application powered by iBeacon technology that has landed today on the app store and is available for free – because who isn't a fan of anything that's free?! – to all iPhone users in North America. Check enables valued customers to discover who is in the same location as themselves and to interact with those that have visited the same businesses as them. The user experience focuses on a neo-phenomenon of "gamification" (a game-playing experience), similar to a treasure hunt that is catalyzed by unlocking businesses that you visit. After visiting and unlocking a location, users can contact and engage with each other in real time, browse profiles, share photos, and develop relationships that have the potential of blossoming into something more.
For our valued businesses, Check has already made a name for itself as a leader in the European market with the help of an iBeacon-equipped network that is estimated to have 5,000 outlets by the end of the year. Check offers businesses a turnkey solution to attract, retain, and monetize customers on a local scale. The application Check Pro, combined with a Bluetooth iBeacon installation, efficiently enables businesses to communicate information, promotions, and events directly with their customers through their smartphones. At the same time, Check facilitates access to data and statistics to help businesses better understand consumer shopping/spending habits, which helps create an effective and interactive digital experience for venues.
The iBeacon Check network deployment has begun with the long-awaited introduction of the application targeting the greater Los Angeles area as a test market in North America. Regional bars, restaurants, night clubs, concert venues, gyms, and other retail chain outlets are jumping on the bandwagon and setting up beacons at their locations to provide their customer base with a one-of-a kind digital social experience. With an emphasis placed on the importance of an efficient management system of inflow and outflow of information and an easily organized customer database, Check Pro aims to generate traffic to brick and mortar stores by mobile interaction with consumers.
With Check, we want to birth a generation of social network and business-interactive applications that start in real life and works in real time. iBeacon technology allows the general public to break the wall between the virtual world and the real world.
"We have been feverishly working on Check for over two years now and our team is proud to bring its expertise and knowledge to the technological forefront of North America. As pioneers of social and digital advancement, we have learned a great deal about this technology and are excited to finally be in a position to be able to provide brick and mortar businesses in the U.S. with user friendly, integrated, customized proximity marketing tools, giving venues a chance to connect with their customers on an interactive digital level to maximize their profits," says Kevin Crouvizier, co-founder of Check.
For more information about Check, you can view the trailer here:
https://vimeo.com/168935016
View the the press-kit with videos and screens here : http://bit.ly/1ZSyBNK
Download Check here:
iOS: https://itunes.apple.com/us/app/check./id1053158691
Download Check Pro here:
iOS: https://itunes.apple.com/us/app/check-pro/id1067279578?mt=8
##
About Check
Check is the first social application powered by iBeacon technology. Founded in 2014 by a team of four with a background in advertising, video games, and IT, Check aims at changing social interactions within local venues. The application allows mobile users to discover and interact in real time with people located within the same venue thanks to an ultra geolocalized technology. Check will be available in more than 5,000 partner locations by the end of 2016, enabling businesses to retain and recruit new customers using a customized tool.