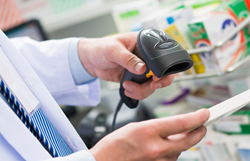 With a more in-depth knowledge, brand manufacturers who have detected irregularities are able to focus their "counterattack" measures as they attempt to remove counterfeits from circulation and stop the trade of gray market goods.
Zwingenberg, Germany (PRWEB) July 01, 2016
In our new whitepaper, Mettler Toledo has developed a guide on Serialization that provides companies, in accordance with current or emerging serialization legislation, with crucial information on making an implementation.
Picture this: In 2015, twelve cell phone batteries were ordered by one of Germany's most popular IT magazines from an online distributor with a solid reputation. Upon receiving the batteries, they made a shocking discovery: all batteries were counterfeits – despite having the brand logo printed on them. A one-time occurrence only? Clearly, these kinds of counterfeits not only cause a drop in sales for the manufacturer of the originals, but given the lower quality of the counterfeits, it will damage their reputation. The World Health Organization (WHO) estimates that around ten percent of all global pharmaceuticals products are falsified, and the counterfeit quota for products sold through online distributors stands at more than 50 percent. LegislatFors have reacted, however, and from February 2019, it will be necessary to prove the origin of every prescription medicine marketed in the EU (see "EU Directive 2011/62 – Pharma paves the way forward").
For traditional brand manufacturers, a similar approach to protecting themselves from counterfeits may prove fruitful. After all, many of the external conditions are similar. Over the past few years, production and supply chains have become increasingly international and diverse, logistical and dispatch routes involve more stages, and the sales channels – particularly when the internet is the outlet – have become more confusing. This has made it easier for counterfeiters and product pirates to sneak counterfeit goods into the market.
The Aim: Transparency at Item Level
Despite the fact that many manufacturers of high-quality and expensive industrial components are increasingly using embedded security to counter the counterfeit threat, for many brand manufacturers a more sensible approach is to protect their supply chain. By using a Track & Trace process, each product is assigned its own serial number to make it uniquely identifiable and traceable from start to finish. A printer system applies the individual serial number to the item's packaging on the production line directly, as is already done with labels at batch level. If the product passes a relevant transaction point, this will automatically be recorded within a company-wide database.
Authenticity – Verified by the Customer
Brand manufacturers have it in their power to use the aforementioned serialization and have consumers play an active role in the fight against product piracy. As a strategy, this can not only open doors to additional value added services, but also provide valuable data for internal sales and logistics optimization.
At the most basic level, the customer is given the option of verifying the authenticity of a product themselves using the QR code – usually by means of a scanner app on their ¬smartphone. Serialization also enables the purchaser to check whether an original is a gray market import with potentially different product characteristics or is subject to regional restrictions with regard to the manufacturer's warranty.
With a more in-depth knowledge, brand manufacturers who have detected irregularities are able to focus their "counterattack" measures as they attempt to remove counterfeits from circulation and stop the trade of gray market goods. A resulting geographical "heat map" of counterfeits uncovered via crowdsourcing is therefore much more than just a first step on the road toward criminal prosecution.
Individual Customer Communications
Serialization also gives the brand manufacturer the option to tailor their individual products using customer communications and do so at different levels. There are virtually no limits set on how much brand manufacturers can use the serial numbers. Once the customer registers, a direct link between customer and brand manufacturer is created. More specific one-to-one marketing measures can be set up based on this, e.g. promotional information, customer satisfaction surveys, or access to loyalty programs.
> Box – Technology Background Information <
The Technology: Serialization plus Track & Trace for Falsification Protection
Brand manufacturers who choose Serialization against counterfeits have two main technical aspects to consider: the necessary hardware infrastructure and the Track & Trace database.
Serialization Hardware: Serialization equipment is usually installed at the end of the packaging line, in order to print the serial number or an individual barcode, e.g. a QR code. Space-saving complete systems are a good idea here, since they not only print the serial number or code, but also subsequently verify this printing using a smart camera and send the data to the Track & Trace -database. Systems such as METTLER TOLEDO PCE's Datamatrix Station XMV cope with the speed requirements of faster packaging lines.
Track & Trace Database: Managing individual serial numbers requires a ¬powerful database as well as a network-based data management system to control all processes. Mettler-Toledo PCE offer an advanced software suite, providing complete automation of all serialization processes, from order preparation through to monitoring and reporting. These features enable, for example, production managers to create orders in the ERP system directly and schedule lead times for these.
For more information, visit http://bit.ly/1WIf6JJ
About METTLER TOLEDO
Mettler-Toledo PCE produces and distributes a wide range of solutions for quality control in the pharmaceutical industry, as well as complete systems for serialization and aggregation. The company is headquartered in Zwingenberg in Hesse, Germany and has been part of the Mettler-Toledo Group since 2011. For more product information, please visit http://www.mt.com/pce.
Mettler-Toledo is the largest provider of end-of-line inspection systems used in production and packaging in the food and pharmaceutical industries, among others. Leading Mettler-Toledo inspection system brands include Garvens checkweighers, Safeline X-ray inspection systems and metal detectors, and CI-Vision optical control systems. You can find more information about Mettler-Toledo at http://www.mt.com .