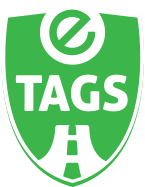 Without your service, those of us who travel for a living would be in a major bind. Thanks so much!!"
Fort Lauderdale, Florida (PRWEB) June 16, 2016
The team at eTags is celebrating a major milestone in having reached 50,000 independent customer reviews. The online vehicle registration services provider simplifies the way drivers complete DMV-related transactions like renewing their registration. eTags does this by offering streamlined web and mobile platforms, and expert customer support. The company currently services the states of Florida, California and Maryland, and will continue to add more states over the coming months.
eTags has experienced rapid growth since its Florida launch in 2015 and California launch in 2016. The speed of service and availability of support have made it a popular DMV alternative. eTags also helps vehicle owners with online auto insurance quotes and resources for driver licenses, DMV address changes, state vehicle records, and more.
eTags holds a 4.6 out of 5 stars for overall satisfaction while averaging a 4-star rating in both product and customer service satisfaction. "Some companies shy away from or try to hide the raw, unfiltered feedback but it's exactly this that gives us the insight we need to constantly improve." said Claudia Salinas, eTags' Customer Experience Director. "We want to assure that we serve our customers to the best of our abilities and their feedback is pivotal to consistently meeting and exceeding that goal."
One recent customer had this to say; "I really enjoy how fast and easy this is and having a digital copy is perfect for when this slips your mind until the last minute" Another recent eTags customer commented; "Without your service, those of us who travel for a living would be in a major bind. Thanks so much!!" The eTags reviews are submitted by actual customers and then are followed up with by the independent reviews site, Shopper Approved, to collect additional information regarding their satisfaction once the transaction is completed and the customer has received their order.
The team at eTags is thrilled to have reached 50,000 independent customer reviews and they look forward to serving vehicle owners throughout 2016 and beyond.
About eTags.com
eTags offers fast, online tag registration renewals in Florida and California. The eTags team is also dedicated to spreading awareness for driving safety issues via Facebook, Twitter, and other social media channels.