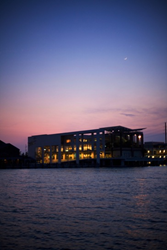 Charleston, S.C. (PRWEB) June 20, 2016
This July Fourth, join the South Carolina Aquarium in celebrating America's independence with fins, fun and fabulous views of the fireworks over the Charleston Harbor. Sea Stars and Stripes is back for its second year, and as a Good Catch event, it's not only a celebration of our great country but also of Charleston's delicious and sustainable seafood.
Tickets to Sea Stars and Stripes include the classic summer staple of great barbecue and a Lowcountry boil featuring locally caught and sustainable shrimp, as well as craft beer and wine. While dining on delicious bites, enjoy a front row seat to the fireworks from one of the best vantage points in town. Tickets also include admission to the Aquarium, where you can enjoy many amazing exhibits while you escape from the summer heat. Tickets are expected to sell out, so buy early! To purchase tickets or for more information, visit scaquarium.org or call (843) 577-FISH (3474).
Fast Facts:

Good Catch event featuring barbecue, a Lowcountry boil, beer and wine, Aquarium admission and fantastic views of fireworks
July 4, 2016, 7-10 pm at the South Carolina Aquarium
All-inclusive ticket prices are $60 for adults and $30 for children (all children two and under are free)
Aquarium members receive a $5 discount per ticket
Guests can bring their own blankets and chairs (no coolers allowed)
Book now; this is a popular sell-out event!
To purchase tickets visit http://www.scaquarium.org or call (843) 577-FISH (3474)
For all media inquiries, please contact Kate Dittloff at (843) 579-8660 or kdittloff(at)scaquarium(dot)org.
About South Carolina Aquarium Good Catch:
Good Catch generates awareness and leads communities in support of healthy fisheries and consumption of responsibly harvested seafood. The program pragmatically balances the health of the environment with South Carolina's demand for seafood by working with consumers and chefs, helping them make wise seafood choices to support healthy, abundant oceans. More than 115 restaurant partners have committed to serve and purchase sustainable seafood whenever possible and to avoid species that are immediately vulnerable to extinction. As a community, when we choose seafood from local, sustainably managed fisheries or dine at restaurants which do the same, we minimize our impact on the environment. Find the most up-to-date Good Catch partner list and more information on making good seafood choices each season at scaquarium.org/goodcatch.
About the South Carolina Aquarium:
The South Carolina Aquarium, Charleston's most visited attraction, features thousands of amazing aquatic animals from river otters and sharks to loggerhead turtles in more than 60 exhibits representing the rich biodiversity of South Carolina from the mountains to the sea. Dedicated to promoting education and conservation, the Aquarium also presents fabulous views of Charleston harbor and interactive exhibits and programs for visitors of all ages.
The South Carolina Aquarium, a 501(c) (3) not-for-profit organization and is open daily from 9 a.m. to 4 p.m. The Aquarium is closed Thanksgiving Day, half day Dec. 24 (open 9 a.m. to 1 p.m.) and Dec. 25. Admission prices are: Toddlers (2 and under) free; Youth (3-12) $17.95; Adults (13+) $24.95. The Aquarium plus the 4-D Theater experience is free for Toddlers, $22.95 for Children, $29.95 for Adults. The 4-D Theater experience only is $6.95 for Children and Adults, and free for Members. For more information call 843-720-1990 or visit scaquarium.org. Memberships are available by calling 843-577-FISH.
###