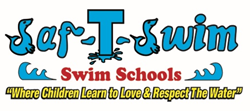 Calverton, New York (PRWEB) June 17, 2016
Contact: Bobby Hazen
Phone: 516-578-3453
Email: bobby(at)saf-t-swim(dot)com
For Immediate Release
The World's Largest Swim Lesson in 24 Hours Sends the Message
Swimming Lessons Save Lives to millions around the globe
Team WLSL Set to Make a Difference on June 24, 2016
SAF-T-SWIM and SPLISH SPLASH WATERPARK are serving as official Host/Host Location
For more details or to register, visit saf-t-swim.com
On Friday, June 24th, 2016, tens of thousands of kids and adults at aquatic facilities around the world will unite for the seventh year in a row to make noise that Swimming Lessons Save Lives. A GLOBAL EVENT, the World's Largest Swimming Lesson (WLSL), will take place over the course of 24 hours at an estimated 500 locations in more than 20 countries.
Since its inception, more than 155,000 children and adults have participated in WLSL lessons, generating more than half a billion media impressions about the vital importance of learning to swim. The 2015 WLSL event included 38,170 participants from 22 countries.
Tragically, drowning remains the leading cause of unintended, injury related death for children ages 1-4, and the second leading cause of accidental death for children under 14. Research shows participation in formal swimming lessons can reduce the risk of drowning by 88% among children aged 1 to 4, yet many kids do not receive formal swimming or water safety training.
Saf-T-Swim and Splish Splash along with End Drowning Now are committed to educating the community, our parents, caregivers, and children about the importance of swim lessons and learning how to swim. Come watch or join with hundreds of Long Island children, caregivers and parents who will be part of this amazing swim lesson. Help raise awareness and prevent drowning.