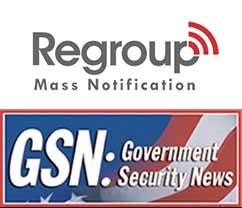 We are truly honored and proud to be recognized by GSN for our innovative emergency communications solutions
San Francisco, CA (PRWEB) June 16, 2016
Regroup Mass Notification, the leading provider of emergency and unified mass communication solutions, was named finalist for GSN's prestigious 2016 Airport, Seaport, Border Security Awards Program in the category Communications Solutions for Best Mass Notification System. These awards recognize the important accomplishments of technology companies, scientists, government agencies, transportation, law enforcement and many others whose combined efforts create a safer, more resilient environment.
In GSN's public announcement on June 10, lead judge Chuck Brooks said, "This is a highly targeted program dealing with very serious national and international threats in land, sea and air that are in the news every day. The vendor companies and government agencies working in Airport, Seaport, Rail and Border security and participating in this program are cutting edge leaders both nationally and internationally."
Regroup's outstanding work in the field of emergency communications, crisis management and business continuity solutions propelled the company to one of only two finalists selected from the group of participating service providers.
"Our team has worked incredibly hard to provide institutions with cutting-edge tools for communicating effectively during any type of emergency situation," said Joe DiPasquale, CEO of Regroup. "We are truly honored and proud to be recognized by GSN for our innovative emergency communications solutions."
To learn how Regroup can help your organization with critical and non-critical communications, schedule a free demonstration of their award-winning Mass Notification System by going to http://1.regroup.com/request-demo-2016-pr/
ABOUT REGROUP:
Regroup, the leading provider of Emergency and Mass Notification Solutions and DRI 2015 Notification System of the Year, offers easy, one-click messaging to mobile phones (text/voice), landlines, email, social media, websites and more. Regroup stands apart from other mass communication systems with its ease of use, automated messaging capabilities, seamless integration with client databases and other third-party systems, unparalleled 24/7 customer support and unlimited text/voice/email messaging.
Regroup's powerful, yet easy-to-use mass communications platform is leveraged by universities, state/local governments, corporations and nonprofits across North America to streamline emergency and day-to-day communications.