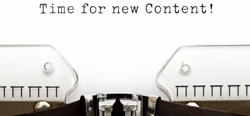 Content marketing allows you to engage your audience with high-quality, relevant information they will actually choose to consume."
New York, NY (PRWEB) June 17, 2016
Inc. Magazine has published a recent thought-provoking online article, "Why Content Marketing Works and What Can Help You Do It Right," which addresses the need for businesses to restructure their marketing efforts and focus on adding content marketing to the mix. The article lists a handful of companies that excel at facilitating content marketing campaigns for brands and Mediaplanet was listed as a top resource.
"It is no surprise that content marketing is beginning to take center stage as a prominent strategy for carrying out a successful marketing initiative for any business, small or large," says Mediaplanet's U.S. Managing Director, Luciana Olson. "More marketers and business owners are looking for support in these efforts."
Adds Olson: "The recently published Inc. article is a great resource to see why content marketing is so relevant and which companies are out there, including Mediaplanet, that will help to carry out an effective strategy."
Inc. magazine contributor, Bubba Page, begins the article by pointing out the obvious problems with traditional outbound marketing efforts, mainly display advertising and how it is not enough to occupy the full focus of a marketing campaign to garner successful results. The article goes into detail about the amount of ads one person is exposed to on average in a single day and makes the point that, these days, "consumers have never had more means of avoiding interruptive advertising" and that is why marketers need to be focusing on content. The article adds: "Content marketing allows you to engage your audience with high-quality, relevant information they will actually choose to consume."
"Mediaplanet is committed to creating quality content for our readers, as well as continuing to facilitate successful content marketing campaigns for our clients," sums Olson. "We are thrilled to be included in the article!"
You can read the INC Magazine article featuring Mediaplanet, here.
About Mediaplanet:
Mediaplanet is the leading independent publisher of content marketing campaigns covering a variety of topics and industries such as Health, Education, Lifestyle, Business and Technology, and Corporate Social Responsibility. We turn consumer interest into action by providing readers with motivational editorial, pairing it with relevant advertisers and distributing it within top newspapers and online platforms around the world. Please visit http://www.mediaplanet.com for more on who we are and what we do.