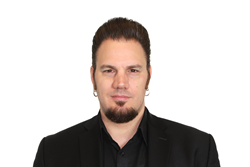 Chicago, IL (PRWEB) June 16, 2016
Sandbox, one of the nation's leading independent full-service agencies, has hired Terry Lawrence as vice president, creative director. He will help lead and expand the agency's creative services for healthcare clients, leveraging his experience in strategic planning, branding and design solutions. He reports to Joe Ferrazano, executive vice president, chief creative officer.
"Terry has extensive experience in strategy and campaign development for healthcare companies, but he also has significant consumer marketing experience," notes Ferrazano. "His diverse background is a valuable asset in today's landscape, where healthcare is increasingly consumer-focused and our clients are always seeking innovative new ways to engage effectively with physicians and patients."
Before joining Sandbox, Lawrence was vice president, creative director for DiscoveryUSA, part of the Publicis Healthcare Communications Group. He also served as principal, creative director for Chicago-based thinktank, providing strategic creative direction for a variety of healthcare clients. His career also includes stints at four consumer agencies, plus four years at Goble & Associates, the former name of GA Communication Group, which in 2016 became a founding member of Sandbox.
Lawrence has received numerous creative awards for his work in healthcare, including multiple Dx Awards, Rx Club Awards, Davey Awards, and Summit Creative Awards. His consumer work has also been recognized, winning Best in Show at the HOW International Design Awards and various honors from competitions including the PRINT Magazine Awards and the American Center for Design Awards.
Lawrence earned a Bachelor of Fine Arts in graphic design from the University of Illinois at Urbana-Champaign. He also studied for a year at the University of Wolverhampton in England. He is 42, lives in Chicago, and is a long-time member of the AIGA and its Chicago Chapter.
About Sandbox
Launched in 2016, Sandbox is an independent, full-service agency formed by four complementary entrepreneurial agencies united by a "create better together" ethos of collaboration. Headquartered in Chicago, Sandbox operates from seven locations across the U.S. and Canada. Its roster of clients includes some of the most respected names in human and animal healthcare, agriculture, biotechnology, financial services, travel, and consumer products. To learn more, visit sandboxww.com.