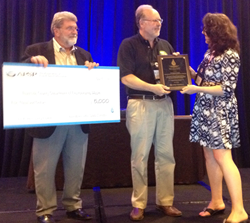 Alexandria, VA (PRWEB) June 16, 2016
The Association of Pool & Spa Professionals (APSP) has awarded the 2016 Dr. R. Neil Lowry Grant to Riverside County California Department of Environmental Health at the National Environmental Health Association/Department of Housing and Urban Development Conference in San Antonio, TX.
Given in the memory of Dr. Robert Neil Lowry, a long-time member of APSP and the Recreational Water Quality (RWQ) Committee, this $5,000 grant honors a public health official or department who has made outstanding contributions to advance the public's health and safe use of recreational water in pools, spas and waterparks through educational, safety, operational, and technical programs.
Director Steve Van Stockum with the Riverside County Department of Environmental Health Department, accepted the award from Jody O'Grady, Vice President of Sales Operations and Support at Taylor Technologies, Inc. and member of the APSP Recreational Water Quality (RWQ) Committee.
The Department will use this grant to create a series of water safety videos that promote drowning prevention. Through the widespread distribution of these videos, they hope to increase the public's awareness of pool safety and drowning prevention.
"The loss of a child or loved one due to drowning in a pool or spa is a devastating and preventable cause of death. We are honored to receive the R. Neil Lowry Award to assist us in our efforts to prevent drowning in Riverside County and throughout the state of California," said Stockum.
"The impact that we have on saving lives starts by supporting projects that build water safety awareness," said APSP President & CEO Rich Gottwald. "We are honored to promote the safe enjoyment of water in memory of Dr. R. Neil Lowry, a well-known educator and consultant to the pool and spa industry in Canada and the U.S."
Past winners of the Dr. R. Neil Lowry Grant include: Columbus Public Health, 2015; Middlesex-London Health Unit, 2014; Brevard County Environmental Health Services Department, 2013; Sacramento County Environmental Management Department, 2012; Alexandria, Virginia Health Department, 2011; City of Houston, 2010; and City of Plano, 2009.
For more information about the Dr. R. Neil Lowry Grant visit APSP.org/Lowry.
•••
About APSP
The Association of Pool & Spa Professionals (APSP) is the world's oldest and largest association representing swimming pool, hot tub, and spa manufacturers, distributors, manufacturers' agents, designers, builders, installers, suppliers, retailers, and service professionals. Dedicated to the growth and development of its members' businesses and to promoting the enjoyment and safety of pools and spas, APSP offers a range of services, from professional development to advancing key legislation and regulation at the federal and local levels, to consumer outreach and public safety. APSP is the only industry organization recognized by the American National Standards Institute to develop and promote national standards for pools, hot tubs, and spas. For more information, visit APSP.org or the Association's consumer site, EscapetoWater.com.
About the RWQ Committee
The APSP Recreational Water Quality Committee is an invaluable authority in assisting the APSP in the development and maintenance of authoritative information regarding chemical products, processes, and devices that affect water quality maintenance in the swimming pools, spa and hot tub industry. Through its efforts, the Recreational Water Quality Committee advances the business image and welfare of APSP members by providing technical expertise water quality and water treatment.