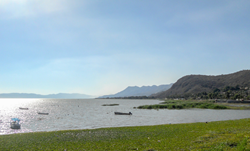 In Chapala, expect to pay rent of $500 to $850 a month for a comfortable two-bedroom, two-bath house. Similar properties in Ajijic may cost an additional $100 or more per month.
Baltimore, MD (PRWEB) June 20, 2016
At an altitude of 5,000 feet in west-central Mexico, Lake Chapala (the country's largest freshwater lake) boasts one of the best climates…and some of the most stunning scenery…in the world. Daily temperatures range between 75 F and 78 F. And, a new report from the editors at InternationalLiving.com explains, it's incredibly convenient, too. From the north shore of the lake, the international airport of Guadalajara, Mexico's second largest city, is just 50 minutes away on excellent roads.
All this has made the north shore of Lake Chapala one of the most popular destinations in the world for U.S. and Canadian expats, with as many at 15,000 living there full- or part-time. Despite its popularity, however, a recent survey of real estate prices shows that properties in the area represent great value.
Lying along the lake's north shore and only a few miles apart, the two small towns of Chapala and Ajijic, known collectively as "Lakeside" by the locals, are the area's main retirement hubs. The Lakeside area has grown a lot in recent years and the growth shows no signs of slowing.
New construction continues as expats keep coming. Ongoing development is gradually closing the distance between the two towns, but Ajijic still has more expats and higher property values. According to the International Living report, this is because Ajijic has long been a getaway for wealthy city folks from nearby Guadalajara, who are looking for hillside vacation homes overlooking the lake; these are harder to find in Chapala.
The larger expat presence in Ajijic has also increased property prices there. But real estate in both communities remains very affordable. In Chapala, expect to pay rent of $500 to $850 a month for a comfortable two-bedroom, two-bath house. Similar properties in Ajijic may cost an additional $100 or more per month.
Prices in the most popular areas in Ajijic have held steady for the past five to eight years, despite the global economic downturn. Less popular (but still attractive) lakeside areas saw prices fall by 10% to 20%, but the entire market is in the process of a steady recovery.
Considering the strong U.S. dollar (it's now stronger than it's been in a decade) and the correspondingly weak peso, timing is good for somebody shopping with greenbacks. Centrally located homes in this area can still be found for as little as $45,000.
Buying there can make sense from an investment standpoint, too. The growing number of expats has provided a solid base of buyers and renters that won't disappear any time soon. Snowbirds fleeing the cold North American winters flock to Lake Chapala, nearly doubling the normal population during those months.
All these expats need a place to live or stay during the winter, but year-round rentals are also in high demand—and not just from expats. Rising home prices in Guadalajara, and the presence of large multinationals in the area, are leading many Mexicans to relocate here.
Rental properties close to the village centers are very popular with snowbirds, as most will not have cars and so have to get around on foot or use public transport. In Chapala, a basic home in need of only a little remodeling is going for just $45,000. This two-bedroom, one-and-a-half-bathroom home is right at the heart of town, an easy walk to shopping and services.
Another investment choice is the San Antonio neighborhood, situated about midway between Chapala and Ajijic. San Antonio straddles the highway, with the southern half near the lake and the other half climbing up the hillside. Choose the lakeside half for an investment property, as seasonal renters will want to be closer to the bus route. Residents of this area can reach all the shops and eateries they need with a 10-minute walk. In this locale, $99,000 buys a modern two-bedroom, two-bath, second-floor condo with a relaxing view of the pool and garden.
Expats looking to rent in Ajijic will find a cozy option in the Chula Vista neighborhood. A two-bedroom, two-bath rental has landscaping with shaped shrubbery and a small yard. Numerous large windows let in plenty of light, creating an open feel. The house is furnished and comes with a brick fireplace and a separate laundry room, all for $850 a month.
Properties with lake views are highly prized but still readily available. A 3,000-square-foot, two-bedroom, two-bath house in a gated community in Ajijic, complete with a large open terrace and a wet bar, was recently on offer for just under $300,000.
Another home with great lake views is a two-bedroom, two-bath residence with a private garden and a deep Jacuzzi tub in the Chula Vista Norte neighborhood, listed for $185,000. It offers 2,000 square feet of living space, bóveda ceilings, and an open living area.
The full report on Chapala's value real estate market, including more prices and neighborhoods, can be found here: Great Value Real Estate in Lake Chapala: Mexico's Welcoming Expat Haven.
Editor's Note: Members of the media have permission to reproduce the article linked above once credit is given to InternationalLiving.com.
For information about InternationalLiving.com content republishing, source material or to book an interview with one of our experts, contact Associate Editor Carol Barron, 772-678-0287 (US), CBarron(at)InternationalLiving(dot)com or visit the Media Center.
For 36 years, InternationalLiving.com has been the leading authority for anyone looking for global retirement or relocation opportunities. Through its monthly magazine and related e-letters, extensive website, podcasts, online bookstore, and events held around the world, InternationalLiving.com provides information and services to help its readers live better, travel farther, have more fun, save more money, and find better business opportunities when they expand their world beyond their own shores. InternationalLiving.com has more than 200 correspondents traveling the globe, investigating the best opportunities for travel, retirement, real estate, and investment.