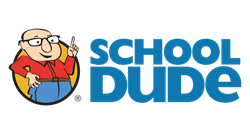 Achieving superior operations management performance requires an advocate. We call these individuals SchoolDude Campus Champions and they are the best-of-the-best.
Cary, NC (PRWEB) June 16, 2016
SchoolDude, a leading provider of education operations management solutions, today honored 95 Campus Champions for demonstrating operational excellence and leadership at their respective K-12 or higher education institutions.
An annual award program led by SchoolDude, the Campus Champions program recognizes education facilities and operations professionals whose operational proficiency scores fall within the top 10 percent of the nearly 6000 peer institutions within the SchoolDude community. These individuals represent distinction in Maintenance and Operations, Facility Use Management and IT Incident Management.
"While we know all SchoolDude clients are driven to make a difference at their institutions, it is important to recognize those professionals who have secured a high level of success by harnessing technology to make an impact," said Lee Prevost, Chief Strategy Officer and Co-Founder, SchoolDude. "Achieving superior operations management performance typically requires one individual advocating for that program's implementation. We call these individuals SchoolDude Campus Champions and they are the best-of-the-best."
Qualification for the Campus Champions program is based on SchoolDude data for the previous calendar year and the key performance indicators (KPIs) for categories such as productivity, efficiency, resource allocation, data integrity, and other similar metrics. Each KPI receives a score based on how an institution compares to both the median and top performer peer organizations.
Campus Champions also participate in the SchoolDude Online Community answering questions posted by peers, as well as joining in discussions and offering expert advice. Through their active participation, these individuals help shape the future of SchoolDude services by assisting in new product testing, enhancement evaluation, and overall concept and idea discussions.
For a complete list of the SchoolDude 2016 Campus Champions or more information, visit http://bit.ly/1XnWaQB.
About SchoolDude
For the past 15 years, SchoolDude has served educational professionals, supporting the vitally important role they play in providing a safe, clean, healthy, and quality learning environment for students, staff and faculty. We deliver cloud applications to help both small and large institutions better manage their facilities, IT and business operations. More than one million education professionals from nearly 6,000 educational institutions are using SchoolDude products to streamline maintenance work order and IT help desk management, schedule preventive maintenance, plan for capital replacements, increase inventory accountability, and maximize after-hours facility use and utility consumption. For more information, visit http://www.schooldude.com
###