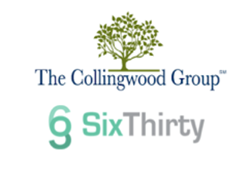 Washington, DC and St. Louis, MO (PRWEB) June 16, 2016
SixThirty, the global financial technology (FinTech) venture fund and accelerator based out of St. Louis, today announced the launch of a new accelerator focused exclusively on cybersecurity, SixThirty CYBER. SixThirty CYBER will partner and co-locate with The Collingwood Group, a Washington DC-based business advisory firm. The Cyber Security Accelerator will invest $10 Million (M) over the next five years into the most promising cyber startups serving the financial services industry – a sector increasingly vulnerable to cyber attacks.
SixThirty CYBER will build upon the proven operating model and infrastructure of the SixThirty FinTech Accelerator, which has already helped successfully fund and promote the growth of more than twenty businesses in three years under the stewardship of Cultivation Capital, the St. Louis Regional Chamber and a number of other General Partners, including Brian Matthews, Managing Partner of Cultivation Capital, and Jim McKelvey, Co-Founder of Square. The Accelerator will leverage The Collingwood Group's established presence in the DC market and extensive expertise within financial services to assist businesses in the Accelerator to develop superior corporate strategies to engage the federal government, the government-sponsored enterprises, Fannie Mae and Freddie Mac, and other key players in the financial services industry.
"In the past year, an increasing number of applicants to the SixThirty Accelerator program were companies that were focused primarily on cybersecurity technology solutions. That fact, combined with the ever-increasing risks posed to the financial services industry, made it evident that there was genuine market demand for an early-stage venture fund and program that specifically targets cybersecurity solution providers," said Atul Kamra, Managing Partner of SixThirty.
Jay DeLong will manage SixThirty CYBER. DeLong is the Co-Founding General Partner of SixThirty. "We have a proven model and experience operating a FinTech accelerator, as well as established credentials supporting financial services firms," he said. "With the addition of The Collingwood Group as a General Partner, we are able to expand SixThirty CYBER'S ecosystem to include a firm with extensive experience in Washington DC, unrivaled knowledge of the financial services industry and a proven track record working with early-stage technology companies. We believe these are critical elements of success in the cybersecurity space," he added. In addition to DeLong, the general partnership has been expanded to include John True of Cultivation Capital's TechFund II and Jason Clark, currently the Chief Information Security Officer (CISO) at Optiv. Clark was previously the CISO at Websense, Emerson and the New York Times. He is also Founder and President of SixThirty CYBER's strategic partner, Security Advisor Alliance, who brings a sounding board and a customer base of CISOs from some of the largest companies within the US.
Brian O'Reilly, Collingwood Group's Co-Founder and President commented on the promising new venture; "Collingwood has nearly a decade of proven experience assisting companies in identifying business opportunities in both the commercial and government sectors of the financial services industry. The company is also a trusted advisor to firms throughout the industry and assists those clients in fashioning solutions to complex business problems, especially those with potential regulatory impact." The Collingwood Group will help create a solid foundation to launch cyber startups. O'Reilly continued, "Cybersecurity poses risks to all companies operating in financial services (lenders, servicers and service providers) that are unprecedented and potentially franchise ending. Unfortunately, only the largest companies in the industry seem to be confronting and tackling cyber risks systematically and cohesively. Collingwood's participation in SixThirty CYBER will enhance the firm's ability to support its clients, in particular independent mortgage originators and industry service providers in identifying and implementing scalable, cost effective and manageable cyber solutions that are best in class, as well as sustainable."
SixThirty CYBER is excited to launch its first invitation for applications on June 7, 2016. Applications for the program will be accepted until July 12, 2016. The first Accelerator class is expected to consist of five firms and will begin in September 2016. The program will be housed in the T-REX space in St. Louis along with sessions in Washington, DC. For more information on SixThirty CYBER, visit http://www.SixThirtyCYBER.com.
About SixThirty:
SixThirty is a business development accelerator that invests in later seed-stage financial technology startups with working products. SixThirty accepts startups in both its fall and spring cohorts. Each startup receives up to a $100,000 investment in exchange for a negotiated percentage of equity. The companies selected to take part in the accelerator program participate in a 14-week program that focuses on hands-on training, mentoring, and networking opportunities with leaders from the top financial services companies in the country.
About The Collingwood Group:
Collingwood is a business advisory firm serving the financial services and fintech industries. Collingwood helps clients grow their businesses, and with its team of professional services experts, Collingwood assists companies to achieve operational excellence. For more information about The Collingwood Group its services or SixThirty CYBER, please visit http://www.collingwoodllc.com, or the contacts identified below.