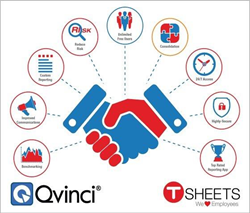 By harnessing the power of these powerhouse platforms, users will be able to transform the way they do business...
Austin, TX (PRWEB) June 15, 2016
Qvinci Software and TSheets have teamed up to provide business owners with state-of-the-art financial reporting and benchmarking.
With go-anywhere, cloud-based time tracking technology, TSheets gives employees and employers (plus their accountants and payroll managers) mobile, flexible tools to track what happens at the office and in the field.
As evidenced by its No. 1 ranking in the Intuit App Store, TSheets' customers know the value of tracking time down to the last second. Now, they will be able to see how valuable it is to track their financial performance down to the last penny as Qvinci's patented, enterprise-class software is being offered to them at a heavily discounted price.
Also cloud-based, Qvinci is the No. 1 rated reporting app in the Intuit App Store and has been the reporting partner for the Intuit Franchise Program since 2011.
By harnessing the power of these powerhouse platforms, users will be able to transform the way they do business by keeping information from financial reports organized, accessible, accurate and up-to-date.
According to Chris Generalis, VP of Business Development at TSheets, the partnership will greatly benefit business owners and managers because it will fill a gap that many are experiencing in labor management and time reporting.
Vanessa Romero, TSheets Franchise Sales Manager agreed: "In particular, the benchmarking feature that Qvinci offers provides valuable insight to franchises and multi-unit companies. We're excited to be their recommended solution and to offer Qvinci franchises the time tracking data they need to gain better insight into the productivity of each of their locations."
Qvinci's Chief Innovation Officer and inventor Charles Nagel is also excited about the partnership.
"For this release, we've added industry benchmarking to our solution allowing users to compare themselves to peers," he said. "It's really just the first of several integrations between the companies, all of which will provide greater breadth and depth of value for our clients."
Both Qvinci and TSheets offer quick and painless set-up processes and unlimited, free customer support through email, chat or by phone. As a result of this partnership, TSheets customers will receive special pricing of $99 a year.
ABOUT QVINCI: A cloud-based solution, Qvinci is a patented extension to QuickBooks, MYOB, Xero and Excel that delivers automated consolidation, syncing and mapping to a SCoA in milliseconds. Qvinci provides easy and automatic custom reporting, and enterprise-class at a price that's affordable for any business. It identifies meaningful KPIs, financial red flags and opportunities for growth through peer benchmarking, forecasting and custom report building. Founded in 2007, Qvinci is based in Austin, Texas.
ABOUT TSHEETS: Every .75 seconds, somewhere in the world, an employee clocks in using TSheets time tracking and scheduling software. Thousands of companies trust TSheets' online timesheet and scheduling technology. Employees track time using a computer, mobile phone, GPS-enabled apps, text, dial in and more. TSheets is the top employee rated and requested time tracking and scheduling software on the planet. Founded in 2006, TSheets is based in Boise, Idaho.