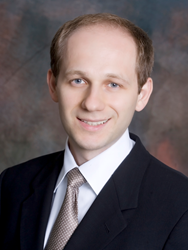 I am excited to help lead the region that will influence and elevate the health outcomes of the greater Tampa Bay Community
Tampa, FL (PRWEB) June 15, 2016
Florida Hospital has named Dima Didenko VP/CFO for the Florida Hospital West Florida Region. Didenko will assist and oversee revenue cycles for the region hospitals, while supporting business line growth initiatives and driving more efficient resource utilization. He will begin in his new role on July 18, 2016.
Didenko has spent more than 16 years working in various financial leadership roles and dedicated more than 13 years of service to AHS. In August of 2013, Didenko was named Chief Financial Officer at Florida Hospital Tampa, the largest tertiary 517-bed hospital in the West Florida Region, and Florida Hospital Connerton Long Term Acute Care.
He outperformed yearly budgets with consistent growth, managed capital investment plans for a number of new construction projects, including Florida Hospital Tampa's new ER, ICU and Women's Health Pavilion. Prior to joining Florida Hospital Tampa, Didenko served for four years as CFO & COO of the 259-bed Florida Hospital Heartland Division. During these years, he strategically reduced overhead expenses yearly and helped lead patient satisfaction and quality initiatives.
"Dima is a transformational leader. He has a proven track record of building successful teams in revenue cycle and hospital operations, while reducing expense structure. His commitment to our mission, excellence and community will help strengthen our team," said Mike Schultz, President & CEO of the Florida Hospital West Florida Region.
Didenko holds an MBA from Kellstadt Graduate School of Business, DePaul University and a BBA from Southern Adventist University in Collegedale, Tennessee.
He currently serves on a number of community boards in Tampa Bay including the University Area Community Development Corporation Board, American Heart Association Heart Walk Executive Cabinet, Florida Hospital Physician Group Board, West Florida Health Clinical Integration Network Board and then West Florida Health Home Care Board.
Didenko and his wife, Lila, have three children, Oliver 9, Eleanor 6, and Edison 3 years old that like to spend time outdoors, biking, running, and enjoying everything Tampa Bay has to offer to an active family of five.
"I am excited and honored to join the team at the Florida Hospital West Florida Region. I've had the chance to work with great teams on the campus level, I look forward to helping achieve all regional strategic goals including market share growth, while maintaining accretive financial performance, and strong capital position in every market we serve" said Didenko. "While I will miss my day to day interaction with the caregivers and the team members on the hospital level, I am excited to help lead the region that will influence and elevate the health outcomes of the greater Tampa Bay Community."
Florida Hospital West Florida Region
The Florida Hospital West Florida Region is a not- for- profit 1,275-bed hospital system composed of Florida Hospital Tampa/Pepin Heart Institute, Florida Hospital Carrollwood, Florida Hospital at Connerton Long Term Acute Care, Florida Hospital North Pinellas, Florida Hospital Wesley Chapel, Florida Hospital Zephyrhills, Florida Hospital Heartland Medical Center Sebring, Florida Hospital Heartland Medical Center Lake Placid and Florida Hospital Wauchula. Part of the Adventist Health System, Florida Hospital is a leading health network comprised of 26 hospitals throughout the state. For more information, visit FloridaHospital.com.