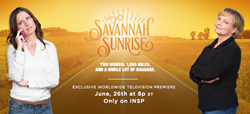 Many Americans still want clean, wholesome programming
Indian Land, SC (PRWEB) June 16, 2016
INSP Films' newest release, Savannah Sunrise, has been awarded the prestigious "Seal of Approval" from the Parents Television Council (PTC). The announcement was made by Gary Wheeler, VP of Original Films at INSP Films.
"INSP Films is committed to creating content that is safe for the entire family," said Wheeler. "It is so rewarding and encouraging to receive this distinguished honor from the PTC. We think that this film is perfect for the family. Savannah Sunrise has it all; drama, humor, a fantastic cast and a story that appeals to viewers of all ages. It's a story rich with the conflicts and joys experienced by so many families. And receiving this award comes at the perfect time, just weeks before the film makes its worldwide television premiere on INSP."
The PTC "Seal of Approval" is presented to outstanding DVDs, films, television shows, advertisers and networks that emphasize positive, pro-family values and do not contain graphic or gratuitous sex, violence or profanity.
Wheeler continued, "Many Americans still desire clean, wholesome programming. The PTC Seal of Approval affirms our commitment to fill a void in the marketplace and provide content that audiences want."
Savannah Sunrise has been licensed to INSP for the worldwide television debut on Sunday, June 26th at 8pm ET. To learn more, visit http://savannahsunrisemovie.com/.
###
About INSP Films
INSP Films is a theatrical motion picture production company owned by television network INSP. Founded in 2015, it produces films that are inspiring, heartwarming and family-friendly.
About The Parents Television Council
The Parents Television Council® (http://www.parentstv.org) is a non-partisan education organization advocating responsible entertainment. It was founded in 1995 to ensure that children are not constantly assaulted by sex, violence and profanity on television and in other media. This national grassroots organization has more than 1.4 million members, and works with television producers, broadcasters, networks and sponsors in an effort to stem the flow of harmful and negative messages targeted to children. The PTC™ also works with elected and appointed government officials to enforce broadcast decency standards. Most importantly, the PTC produces critical research and publications documenting the dramatic increase in sex, violence and profanity in entertainment. This information is provided free of charge so parents can make informed viewing choices for their own families. Visit the new PTC Watchdog Blog at http://www.parentstv.org/blog/. Follow the PTC on Twitter: @ThePTC.