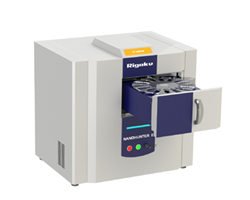 The Woodlands, Texas (PRWEB) June 16, 2016
Rigaku Corporation is pleased to announce its attendance at the European Conference on X-ray Spectrometry (EXRS2016). The event will be held on June 19-24, 2016 at the Conference Centre Wallenberg at the University of Gothenburg.
This conference has become a traditional meeting for scientists from around the world working in X-ray spectrometry or using its associated techniques, and offers an engaging discussion forum for basic research and applications of X-ray spectrometry in a variety of fields.
Rigaku is presenting its current line of X-ray fluorescence (XRF) products and technologies, and will be introducing the next generation Rigaku NANOHUNTER II benchtop total reflection X-ray fluorescence (TXRF) spectrometer. The new spectrometer enables high-sensitivity ultra-trace elemental analysis, in liquids or on solid surfaces, to the parts-per-billion (ppb) level, and combines a fully automatic optical axis adjustment system that provides stable high-sensitivity analysis in a convenient benchtop form factor.
Additional services and X-ray equipment from Rigaku will be presented by RAMCON. RAMCON is a focused distributor offering service and support for X-ray fluorescence and diffraction products from Rigaku.
About Rigaku
Since its inception in Japan in 1951, Rigaku has been at the forefront of analytical and industrial instrumentation technology. Rigaku and its subsidiaries form a global group focused on general-purpose analytical instrumentation and the life sciences. With hundreds of major innovations to their credit, Rigaku companies are world leaders in X-ray spectrometry, diffraction, and optics, as well as small molecule and protein crystallography and semiconductor metrology. Today, Rigaku employs over 1,400 people in the manufacturing and support of its analytical equipment, which is used in more than 70 countries around the world supporting research, development, and quality assurance activities. Throughout the world, Rigaku continuously promotes partnerships, dialog, and innovation within the global scientific and industrial communities.
For further information, contact:
Michael Nelson
Rigaku Global Marketing Group
tel: +1. 512-225-1796
michael(dot)nelson(at)rigaku(dot)com
###