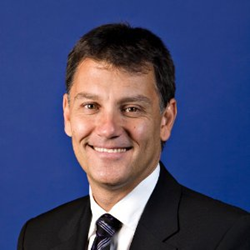 Bluesun's commitment to bringing operational efficiency and innovative solutions to our clients through a collaborative team effort is something that aligns well with my personal values
Toronto, Ontario (PRWEB) June 16, 2016
Bluesun, Inc. is pleased to announce the appointment of Mike Donati as President, replacing Founder and former President, Stewart Wigg. Mike will have the responsibility for the daily operations and strategic direction of WealthServ.
Mike brings with him 30 years of operations and project management experience in the insurance software industry. Most recently, Mike served as Vice President, Sales and Account Management for EquiSoft, the largest system integrator for the Oracle Insurance Policy Administration system. Previously, Mike has held senior executive operations and account management positions at companies such as SunGard Insurance, where he lead the Enterprise Incentive Management (EIM) business unit, which focused on distribution management compensation software (FASAT) for the North American insurance industry.
"Bluesun's commitment to bringing operational efficiency and innovative solutions to our clients through a collaborative team effort is something that aligns well with my personal values," said Mike Donati. "I am honoured to be a part of this energetic and growing team, and I look forward to seeing what momentum Bluesun can achieve in the coming years."
"I am very happy to have Mike join Bluesun," said Stewart Wigg, Co-Founder of Bluesun. "It was crucial for us to find a strong successor for the role of President to lead us through the next stage of growth. To have a proven leader such as Mike at the helm of our operations, I am confident that our clients and internal teams will derive much value from his expertise and commitment to delivery. In addition to Mike's outstanding operational skills, leveraging his past experience in the compensation space will be a huge asset as Bluesun looks to provide an effective solution for Canadian insurance carriers.
About Bluesun: Bluesun is a leading provider of software solutions to the financial services industry. Bluesun's mission is to deliver painless software solutions to its clients. This means easy-to-use, intuitive software, with hassle-free installation and responsive, class-leading service. Today, Bluesun has over 30 clients in Canada and the US and handles almost 60% of all Canadian life insurance business in the independent channel. Bluesun was founded in 2001 with its head office located in Burlington, Ontario. For more information, visit http://www.bluesun.ca.