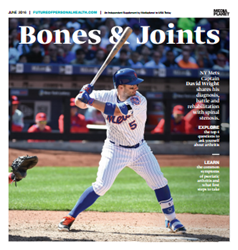 If you are having joint symptoms, you owe it to your body to find out why.
New York, NY (PRWEB) June 16, 2016
Mediaplanet announces distribution of their latest edition, "Bones & Joints," a cross-platform campaign that is raising awareness and educating on the common disorders and diseases associated with musculoskeletal health across the country. With over 40 million people currently being affected by arthritis, over 3 million new cases of osteoporosis diagnosed each year and over 80 percent of people experiencing back pain at some point throughout their lifetime, this campaign provides a detailed look at the many different complications associated with bone and joint health, as well as suggestions and solutions for millions to find relief.
"There are a lot of people who think they might have arthritis, but for some reason avoid discussing it with their doctor." Explains Marcy O'Koon Moss, Senior Director of Consumer Health at The Arthritis Foundation. She goes on to say, "If you are having joint symptoms, you owe it to your body to find out why. Most people start with their primary care physician and are then referred to medical specialists called rheumatologists."
The campaign also features an exclusive interview with New York Mets captain David Wright, who was suddenly diagnosed with spinal stenosis during the 2015 baseball season and has been learning to manage his condition for the past year. "When the doctor called, he said 'do yourself a favor and don't Google it,' and of course the first thing I did was that." he explains, "You are going to have good days and bad days, and the majority are somewhere in between."
The print component of "Bones & Joints" is distributed within USA Today on June 16 with a circulation of approximately 250,000 copies and an estimated readership of 750,000. The digital component is distributed nationally through a vast social media strategy and across a network of top news sites and partner outlets. To explore the digital version of the campaign, click here.
This campaign was made possible with the support of Abbott Laboratories, American College of Rheumatology, American Orthopedic Association, The Arthritis Foundation, The Bonati Institute, LDR Spine, MicroPort Orthopedics, The Myeloma Crowd, National Psoriasis Foundation, Orthopedic Trauma Association, Quest Diagnostics and many more.
About Mediaplanet:
Mediaplanet is the leading independent publisher of content-marketing campaigns covering a variety of topics and industries. We turn consumer interest into action by providing readers with motivational editorial, pairing it with relevant advertisers, and distributing it within top newspapers and online platforms around the world.
Contact:
Molly Messersmith;
molly.messersmith(at)mediaplanet(dot)com
646-979-2834
Nick Barba;
nicholas.barba(at)mediaplanet(dot)com
646-755-7966