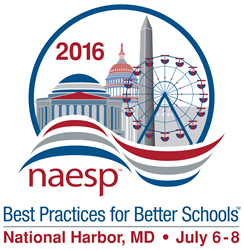 Alexandria, Virginia (PRWEB) June 16, 2016
Elementary and middle-level principals from around the nation will gather for the National Association of Elementary School Principals' (NAESP) Best Practices for Better Schools™ National Conference and Expo of the Year, July 6-8 in National Harbor, Maryland, near Washington, D.C. Preconference activities begin on Tues., July 5.
The largest national conference for pre-K-8 principals, it will connect school leaders with best practices, success stories, and practical solutions for their schools—to lead students and teachers toward success. Principals will gather as schools, districts, and states across the country prepare to implement the Every Student Succeeds Act (ESSA), which sets many new requirements for schools. This year's international contingency of principals includes leaders from Canada, Moldova, Nicaragua, the Netherlands, New Zealand, the United Arab Emirates, and the United Kingdom.
Entire strands of the more than 100 conference sessions will focus on critical topics in education leadership that impact principals every day: educational equity, effective learning communities, technology, transforming schools, and more. (Visit the conference website for a full list of sessions.)
Highlights of this year's conference will include:
Insight from Education Experts. Some of the brightest minds in education will share fresh thinking and innovative strategies. Sociologist and author Pedro Noguera, emotional-intelligence expert Daniel Goleman, and psychologist Russ Quaglia will be among the keynote speakers. State and local district policy experts will also discuss the opportunities and challenges related to ESSA implementation, and how the law supports principal leadership (Wed., July 6, 12-1:30 p.m., Conference Center Potomac Ballroom C).
Special Focus on Pre-K-3 Issues, Release of Study on Principals & Early Childhood. Principals will experience an entire track of sessions on pre-K-3 issues. And a new study will be released on the new demands on principals and other school leaders in providing pre-K-3 programs and developmentally appropriate practices. NAESP teamed with New America and the McCormick Center for Early Childhood Leadership at National Louis University in Illinois for the study. This event will focus on practical ways principals and pre-K-3 educators can work together better to meet the needs of young children. Presenters will include Michael Abel of the McCormick Center, Laura Bornfreund and Ruby Takanishi of New America, and Kelly Pollitt of NAESP (Friday, July 8, 9:15-11:15 a.m., Conference Center National Harbor Room 10).
EdCamp and Innovations Lab. NAESP is offering a preconference EdCamp experience on Tues., July 5, 2-5 p.m. EdCamp attendees set their own agenda and work together to tackle issues that impact their own work, schools, and students. In addition, the #NAESP16 Innovations Lab runs throughout the conference and is the place for educators to develop their own learning networks and keep up with the latest technological tools.
Special Focus on Art, Afterschool, and Summer Learning. The exhibit "Art in the Summer Changes Everything" will be featured during the conference's opening reception on July 6, 8-10 p.m. Conference attendees will enjoy student-produced films, poetry, comic book illustrations, ceramics, a mural inspired by Maya Angelou and more. Participants will have the opportunity to view and interact with the exhibit and the artist in residence throughout the conference. This exhibit is curated by illustrator Danyett Tucker and Emily Norris of the organization Young Audiences.
NAESP Annual Community Service Day. Following NAESP tradition, principals from across the country will volunteer their time to build a playground at Princeton Elementary School in Suitland, Maryland (Tues., July 5, 8 a.m. to noon, 6101 Baxter Drive, Suitland, Maryland).
The conference experience will also feature an Expo Hall, which includes more than 100 industry-leading vendors with innovative services and products for schools.
Conference attendees will share their experiences on social media using the hashtag #NAESP16.
For more information on NAESP's annual conference, visit http://www.naesp-conference.org. Contact Kaylen Tucker (ktucker(at)naesp(dot)org) for press credentials or interviews.
###
Principals are the primary catalysts for creating lasting foundations for learning. Since 1921, the National Association of Elementary School Principals (NAESP) has been the leading advocate for elementary and middle-level principals in the United States and worldwide. NAESP advances the profession by developing policy, advancing advocacy, and providing professional development and resources for instructional leadership, including specialized support and mentoring for early career principals. Key focus areas include pre-K-3 education, school safety, technology and digital learning, and effective educator evaluation. For more information about NAESP, please visit http://www.naesp.org. NAESP administers the National Principals Resource Center, the American Student Council Association, and the President's Education Awards & American Citizenship Awards Programs.