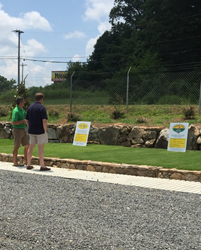 A larger exhibition area is key to helping a customer make the best choice for their new lawn
Charlotte, North Carolina (PRWEB) June 22, 2016
In preparation for this summer, the best time of year to establish new warm-season turfgrass, Super-Sod of Charlotte, North Carolina, installed a new sod exhibition to aid customers select the best sod for their new lawn. In addition to several warm-season turfgrass options, Super-Sod's Elite Tall Fescue, which is a cool season grass, is also included in the exhibit.
The sod exhibition was installed as a way for customers to view all of Super-Sod's grass types side-by-side for thorough comparison and contrast. Preston Cavenaugh, manager of the store, upgraded to these bigger plots because he believes a larger exhibition area is key to helping a customer make the best choice for their new lawn. Customers can walk and study the display area by themselves and they can consult with personnel on the best choice for their lifestyle (children, pets, outdoor entertaining, sports), aesthetic preferences (texture, height, depth of green color), and growing conditions (sun or shade).
New turfgrass types were also added to the exhibition that weren't in their previous, smaller presentation. Super-Sod's eight turfgrass types on display are TifGrand, TifTuf, and Tifway Bermudas; Emerald, Leisure Time, and Zenith Zoysia; TifBlair Centipede; and Elite Tall Fescue.
The entire exhibition incorporates materials that compliment sod: stone, Drivable Grass permeable pavers, and Soil3 organic humus compost sold in a BigYellowBag. The Soil3 compost is incorporated into the soil of the exhibition and it is also used to topdress the plots for organic fertilization.
Super-Sod is a family-run business that employs experts in turf and horticulture. Focusing their sod and compost business in the Southeast, they sell sod by the individual roll, full pallet, or truckload. It's available for delivery or pick-up fresh from their farms to landscapers and directly to DIY homeowners. One of their most popular products has been their OMRI Listed Soil3 organic compost, delivered in a cubic yard BigYellowBag, which they make partially from composted grass clippings from their sod production. Super-Sod continues to develop new garden products, foster gardening and landscaping, and always seeks to improve their farming practices, technology, environmental stewardship, and employee knowledge.