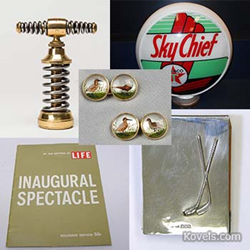 Cleveland, Ohio (PRWEB) June 16, 2016
It's difficult to find the perfect gift for Dad, but to hunt for an affordable gift, the antiques experts at Kovels.com suggest checking local flea markets and antiques shops to find items that are "different" and collectible.
1. For the father who likes a fashionable look—cuff links. Stylish cuff links of the past 100 years are back and many shirts come with holes on the cuff instead of buttons. Spend a little or spend a lot – collectors can find many vintage examples for $10 to over $1,000. An expensive pair of 14K gold and reverse-painted glass cuff links that picture shore birds sold for $1,560 at a Massachusetts auction.
2. For the history or politics-loving father—find an unusual political item relating to the President in office the year dad was born ($5 to $500 with rare ones costing more). This 1961 Souvenir Edition John F. Kennedy Inaugural Spectacle Issue by the editor of Life magazine sells for under $10 in an online shop and makes for memorable reading.
3. For the father who never misses a game—old sports memorabilia like a seat from the old baseball stadium ($1,000) or this sterling silver desk note pad with a golf clubs, hallmarked London 1912, sold for $108 in a specialty golf auction in New Jersey.
4. The mechanic father or the Dad who likes to work on cars might enjoy anything petroliana. Tin or porcelain gas station and automobile advertising signs, road signs, license plates or even an old traffic light ($144) could be decorative additions to his work space. Gas pump globes are popular, and some that are rare or significant can sell for thousands. But this Texaco Sky Chief milk glass gas pump globe sold at auction in Georgia for $505.
5. Does Dad enjoy a bottle of good wine? Handsome accessories from trolleys and cradles to coasters and corkscrews are popular. This steel and brass corkscrew has a spring design and an industrial vibe. It's 5 inches high, made about 1920, and cost $111 in an online auction.
About Kovels.com
Kovels.com, created by Terry Kovel and Kim Kovel, provides collectors and researchers with up-to-date and accurate information on antiques and collectibles. The company was founded in 1953 by Terry Kovel and her late husband, Ralph. Since then, Kovels' has written some of America's most popular books and articles about antiques, including the best-selling Kovels' Antiques and Collectibles Price Guide, now available in its 48th edition. The website, Kovels.com, online since 1998, offers more than a million free prices, and includes a free weekly email, "Kovels Komments." It gives readers a bird's-eye view of the market through the latest news, auction reports, a Marks Dictionary, readers' questions and answers and much more.
Contact Information:
Liz Lillis
216.752.2252
Pr(at)kovels(dot)com