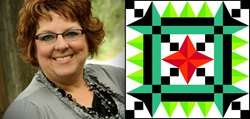 This is the seventh year that we have held this contest and unveiling, and every year the quality of the contest submissions get more impressive.
Omaha, NE (PRWEB) June 16, 2016
AccuQuilt hosted its annual quilt block Unveiling Event on June 9, and the new winning quilt block design, Point of View, by Terri Vanden Bosch of Doon, Iowa made its debut on a gigantic 17' x 17' billboard outside of their headquarters where it will reside all year. AccuQuilt employees as well as thousands of people who travel along I-80 will see the huge billboard everyday.
Originally called the Barn Quilt Contest, AccuQuilt's 7th Annual Quilt Block Design Contest pays homage to the Barn Quilt Trail movement, which was started in 2001 by Donna Sue Groves of Adams County, Ohio. At the start of the contest, quilters have about three weeks to submit their designs and then two weeks of voting begins. After the designs have been narrowed down, three lucky winners walk away with the top prizes.
Vanden Bosch got inspiration for her design after returning home from a motorcycle ride while contending with less than ideal windy conditions. Her quilt block design boasts an assortment of squares, diamonds, triangles and bright, vibrant colors. Vanden Bosch, a longarm quilter, almost did not enter the contest this year after entering several times in the past. Further, not only did Vanden Bosch receive top honors as the grand prizewinner, but she also received an honorable mention for another quilt block design.
Over 100 quilters from the Let's GO! Quilting Retreat--sponsored by AccuQuilt and Country Traditions quilt shop (Fremont, Nebraska)--were in attendance. Before the unveiling and trunk show by quilting icon Eleanor Burns, AccuQuilt President Greg Gaggini shared the AccuQuilt story with retreaters after they toured the AccuQuilt Gallery and viewed quilts from the 2015 Quilt Block Winner Exhibit.
Additionally, retreaters spent a little time in AccuQuilt's state-of-the-art Dream Studio where staff members conducted demonstrations of the fabric cutters and fabric-cutting dies. It was a special treat for those quilters who were not already familiar with AccuQuilt's products.
Gaggini reflected on the event, "This is the seventh year that we have held this contest and unveiling, and every year the quality of the contest submissions get more impressive. We were particularly honored to have Eleanor Burns join us this year. She is a legend in the quilting world and the attendees were thrilled to be able to meet her."
After Gaggini finished entertaining the energetic crowd, he led them outside to watch the quilt block unveiling. Before the big moment, Vanden Bosch shared the inspiration for her design with the audience. Many took photos of the festivities before coming back inside for Burns' trunk show. Burns called on two retreaters to assist her with the quilts. Both ladies proudly unfolded the quilts, making sure to show the crowd the front and the back as Burns discussed each quilt's history. Her quilt collection included countless amazing antique quilts, some with a modern twist.
About AccuQuilt—Better Cuts Make Better Quilts
Headquartered in Omaha, Neb., AccuQuilt offers quilters, fabric crafters and retailers a premiere line of fabric cutters, dies, quilting patterns and other quilt and fabric cutting solutions that help quilters quickly and accurately cut shapes for quilting and fabric crafts. AccuQuilt also offers quilters a wide variety of rich educational resources to enhance their quilting experiences. Cutting with AccuQuilt cutters is a natural evolution of fabric cutting methods. "First scissors…then rotary…finally…AccuQuilt" for fast, easy, accurate fabric cutting. For more information, visit accuquilt.com or call 888.258.7913.
###