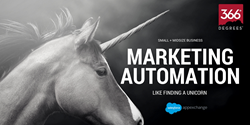 We are excited to introduce the 366 Degrees Agency Partnership Program to agencies that cater to and specifically serve the SMB Market
Atlanta, GA (PRWEB) June 16, 2016
When it comes to marketing, small and midsize businesses (SMBs) have historically resorted to email marketing, social media marketing, and landing page systems with only limited success. Creative and Marketing Agencies are in a great position to help SMBs with content, creative, and brand positioning, but SMBs need to be able to take their results and act quickly on leads. Online marketing company 366 Degrees has the solution. Featuring smart integration with CRM systems, such as Salesforce.com and Nimble CRM, 366 Degrees gives small business marketing and creative agencies a way to work closer with the SMB client to get results.
"We are excited to introduce the 366 Degrees Agency Partnership Program to agencies that cater to and specifically serve the SMB Market," said Brad Banyas, Founder of 366 Degrees. "Small businesses are looking for turnkey solutions that offer both technology and creative services."
366 Degrees helps small to midsize businesses have real visibility in their marketing and campaigning efforts and to manage leads and prospects in real time as they interact with creative assets. This real-time connection to customer relationship management and the sales view side of the SMB is a very unique proposition that is a missing component in most siloed technology approaches. "366 Degrees' platform collaborates to tie Content, Creation, Execution, and Results across the Agency, Client, and the Customer Relationship," said Banyas.
366 Degrees has one of the most aggressive revenue share models in the market with its new Agency Partners program. "The 366 Degrees approach with its Agency Marketing Program is a win for everyone involved," said Banyas. "We are serious about small business solutions and are looking for likeminded agencies that share this passion."
About 366 Degrees
366 Degrees' Marketing Automation and Sales Enablement platform helps small to midsize businesses leverage their marketing automation and current investments in customer relationship management to provide real-time engagement and lead visibility. Our company provides a way for small businesses to enable sales automate their marketing in one streamlined platform. The platform combines email, social, mobile and online marketing channels to drive acquisition, retention, cross-selling and engagement for SMB's. 366 Degrees also integrates with other leading cloud platforms such as Salesforce.com, Google, Nimble CRM and Vidyard to bring streamlined marketing and sales enablement solutions to the small business in an economic way. For more information, visit http://www.366.io.