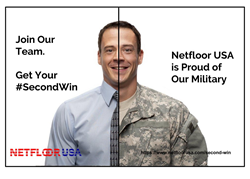 With Netfloor USA's "Second Win" program, we hope to gain talented individuals who have so much to offer in their second careers.
Charlotte, NC (PRWEB) June 16, 2016
Netfloor USA has hired its first military veteran through its "Second Win" program, created to find talented military veterans with experience in communications, electronics, IT infrastructure and access flooring, which are key to solving its clients' communications infrastructure problems.
"We love our vets!" said Ryan Hulland, President of Netfloor USA. Hulland continues: "Finding great talent is a company's biggest challenge," echoing what any HR Manager would agree with.
"The U.S. Military is second to none, and some vets are being pushed out of the military due to budget cuts. It's not fair, it's not right, and with Netfloor USA's "Second Win" program we hope to gain highly talented individuals who have so much to offer in their second careers," said an excited Ryan Hulland.
Netfloor USA just hired Chad Guthrie, a 15 year Army Veteran and current Army Reserve member. With a background rich in Communications, Information Technology and IT infrastructure, Sergeant Guthrie has experience in cable management and access flooring, Netfloor USA's core product lines.
Sergeant Chad Guthrie has served his country in three overseas deployments, and currently serves in the 319th Mobile Public Affairs Detachment.
Netfloor USA has started using the hashtag #SecondWin to denote its efforts to support the military community.
About Netfloor USA:
Netfloor USA Cable Management Access Floor Systems (Netfloor USA) creates communications infrastructure that helps organizations manage their wires and cables in any technology-rich environment. Cable Management Access Floors allow power wires and data cables to be run underneath the floor in less than 2" of height.
More information is available at: https://www.netfloorusa.com