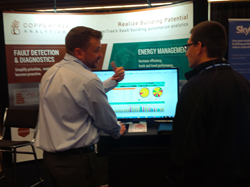 We're excited to be showing our new features at IBCon
Surrey BC (PRWEB) June 16, 2016
CopperTree Analytics Inc. is pleased to invite its customers, partners and friends to this year's Realcomm IBCon Event. Come and join CopperTree Analytics at Booth Number 413 and check out the bold new look of Kaizen. See what all the buzz is about with Prioritization and the redesigned dashboard.
"Our team has been working very hard to improve Kaizen for our customers and we're excited to be showing our new features at IBCon," said Carey Collins, General Manager at CopperTree Analytics
Realcomm President and CEO Jim Young said, "I have been talking a lot lately about the impact of IoT and even AI on our industry, so I am especially pleased that CopperTree has chosen IBCon for its most important announcements. We are also happy to have Kevin Binnie, CopperTree's Director of Product Management, sitting on our Data Data Data - At the Center of the Smart Sustainable Building Discussion as a part of the Sustainability Summit pre-con session."
About CopperTree
Founded in 2012, CopperTree Analytics Inc.is a worldwide leader in building analytics, empowering people through technology to realize their building's potential while reducing their environmental impact and creating better spaces for people to live, work and play.
About Realcomm
Realcomm Conference Group, LLC is a worldwide research and event company at the intersection of technology, innovation and real estate operations. Through our annual conferences, webinars, workshops, CIO Forums and other strategic services, Realcomm provides networking and collaboration opportunities, while educating industry professionals about the latest business solutions and technologies to improve commercial real estate development, leasing, management and operations.
201602
The names of actual companies and products mentioned herein may be the trademarks of their respective owners.
For more information, press only:
Kevin Binnie
+1 778.726.0507
kbinnie(at)cutree(dot)com
For general information about CopperTree:
http://www.coppertreeanalytics.com or info(at)coppertreeanalytics(dot)com
For more information about Realcomm:
http://www.realcomm.com/