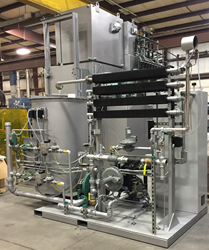 This system was a complete solution for the heat treating process and by integrating it into their current system we were able to streamline the operating process for our customer.
Riverside, MI (PRWEB) June 17, 2016
Lindberg/MPH announced the shipment of a Pacemaker® integral quench furnace with an endothermic gas generator to a company in the die forging industry. The Pacemaker® furnace has a maximum temperature rating of 1850°F and work chamber dimensions of 30" W x 48" L x 30" H. The integral quench furnace system provides a total solution for the customer's heat treating process.
The furnace utilizes a drive mechanism to push the workload into the furnace where it undergoes a hardening process under an endothermic gas atmosphere. A discharge drive system pushes the workload out of the furnace and onto a quench elevator. The load is then either lowered into an oil quench tank for fast circulated cooling or is elevated for a slower atmosphere cool. The endothermic gas generator system supplies the furnace atmosphere and
features a gas mixing oxygen probe, touch screen displays and gas to air cooler.
The integral quench furnace system is integrated into the customer's present loading system. The furnace features fully automatic movement of the load within the furnace controlled through an advanced process controller with an HMI display. Equipment status screens are visible on the HMI screen. The controller also performs all data collection functions for process variables.
Atmosphere carbon potential is controlled with automatically adjusting flowmeters and an oxygen probe. Multiple burners fire through single end radiant tubes to radiate heat onto the workload. Lindberg/MPH provided equipment installation supervision and equipment start-up which was performed by factory trained Lindberg/MPH technicians.
Unique features of this Pacemaker® industrial furnace include:

Full atmosphere and internal movement control through integrated advanced process controller
Reliable snake chain pusher system
Automatically adjusting flowmeters and oxygen probe
Emergency nitrogen purge line
Intermediate insulated door isolates heat chamber
Roller rail hearth
Oil and upper atmosphere quench
Quench tank agitation
Low iron brick insulation
Flame curtain to prevent air inclusion
Soft start variable frequency fan drive
Endothermic generator gas mixing system
Cast alloy, gas heated reaction retort
Air to gas atmosphere cooling system
Full supervisory control and data collection system for heat treating furnace and atmosphere generator