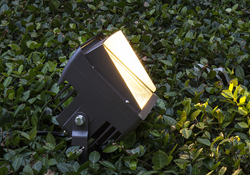 We will continue to expand the new line using the same high-quality standards we apply to our low voltage products.
Tampa, FL (PRWEB) June 21, 2016
VOLT® Lighting, a manufacturer known for their aggressive new-product development strategy, announces the introduction of a new line of LED floodlights and spotlights. Unlike the majority of their landscape lighting products, these new lights accept 120V to 277V making them ideal for commercial and municipal properties.
Steve Parrott, Communication Director, explains why the company added line voltage products to their offerings, "VOLT has come to dominate the low voltage landscape lighting market. The bulk of our customers prefer low voltage because of its ease of installation and safety. Our focus has never been on those who primarily work on commercial and municipal properties – venues that require higher voltage products. We now have the bandwidth to develop and launch these commercial products and to focus on customers in that market."
As with all building trades, commercial lighting professionals struggle to find affordably priced products that are well constructed and function as needed. This is especially true with selecting among the thousands of new LED luminaires – many were rushed to market and are failing to perform as expected. VOLT sees this commercial market as ideal for their streamlined approach to product development and delivery.
Parrott explains, "With the introduction of this new line, we can fill the ongoing need for affordably-priced 120-277V LED lights to replace existing fixtures, and to supply these same lights for new installations. We will continue to expand the new line using the same high-quality standards we apply to our low voltage products."
The new LED lights include two distinct styles – floodlights and spotlights. Floodlights are recognizable for their rectangular shapes and wide faceplates. These lights project beams that cover wide regions. Such lights are ideal for illuminating walls, groups of trees and bushes, and entrance signs.
The second style is spotlights. Also known as directional lights or bullets, spotlights have narrower beams that can be precisely aimed. This makes them ideal for illuminating isolated or smaller objects such as smaller trees, statues, or smaller signs. Spotlights are also used to illuminate walls and larger signs, but the appearance of the illumination is more focused than with floodlights. The biggest advantage with spotlights is that their light is more efficiently directed where it's needed. In some cases, floodlights waste light energy because their light spills over to regions not intended for lighting.
VOLT® offers several models of line voltage floodlights and spotlights that vary in size, brightness, and finish. They are all UL listed and include optional accessories for mounting and glare control. The light source in all models are high-performance CREE® LEDs with a predicted life of 60,000 hours and a consistent natural white color temperature of 4000K.
VOLT 120-277V Floodlights and Spotlights can only be purchased online through http://www.voltlighting.com.
About VOLT Lighting
Based in Tampa, FL, VOLT® Lighting is a leading manufacturer and online seller of indoor and outdoor quality lighting products. For more information, go to http://www.voltlighting.com or call 813-978-3700.