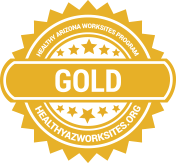 We are honored to have earned the gold level from HAWP and we're continuing to look for new ways to engage our employees in their health and wellness.
SURPRISE, ARIZ. (PRWEB) June 16, 2016
Whether it's promoting lunch-time or after-work exercise, encouraging good nutrition or providing incentives to get and stay in shape, Sun Health has embraced the growing employee-health movement.
The nonprofit recently achieved the Healthy Arizona Worksite Program's (HAWP) gold-award designation. HAWP is a statewide public health initiative co-created by the Arizona Department of Health Services and the Maricopa County Department of Public Health.
There are three levels of the award: copper, silver and gold. Each level requires employers to attend HAWP training, obtain a letter of leadership support for worksite wellness, complete the CDC Worksite Health Scorecard, and write a worksite health-improvement plan. The gold level requires additional worksite wellness initiatives, which must be measured for their effectiveness.
For nearly 50 years, Sun Health has been a champion of healthy living for patients and community members in the West Valley. That mission extends to Sun Health's more than 570 employees who are encouraged to participate in Sun Health's Employee Wellness program.
Employees are provided with baseline biometric screenings annually, which include checks of blood pressure, weight, waist circumference, body mass index and body fat percentage. This information helps them know their numbers and learn where they need to improve.
Each month, employees are challenged to meet a health goal, ranging from walking a certain number of steps, to increasing fiber intake, to strength-training exercises. Each challenge comes with an incentive point to encourage participation. Earning incentive points can lead to awards such as portion control bowls and activity trackers.
Sun Health also offers employees an online wellness platform Wellsource®, which includes a comprehensive health assessment – the Personal Wellness Profile™ (PWP). Responses are tabulated, resulting in an individual risk-assessment report.
To encourage health-related goal setting, employees can complete their PWP and schedule an appointment with a health coach to review results and develop an action plan. Sun Health also offers massage therapy and acupuncture at a discounted rate to employees as a way to reduce stress.
Staff from Sun Health's Center for Health & Wellbeing collaborate with wellness teams from Sun Health's three senior living communities to educate and motivate employees to adopt healthier lifestyles.
These wellness efforts have helped Sun Health win previous recognition. The organization has been designated as an American Heart Association Fit-Friendly Worksite for three consecutive years. And, the Phoenix Business Journal also named Sun Health one of the Valley's Healthiest Employers.
"We are honored to have earned the gold level from HAWP," said Rhonda Zonoozi, an exercise physiologist, certified health coach and coordinator of Sun Health's employee wellness program. "We are continuing to look for new ways to engage our employees in their health and wellness."
About Sun Health
A long-standing champion of healthy living and superior health care, Sun Health is a community-based nonprofit providing pathways to population health through philanthropy, community wellness programs and services, and senior living programs and communities. Sun Health Community Wellness includes the Centers for Health & Wellbeing, Care Transitions, Medication Management, Memory Care Navigator, Vial of Life/File of Life, and Community Education programs. Learn more at http://www.sunhealth.org and http://www.sunhealthwellbeing.org