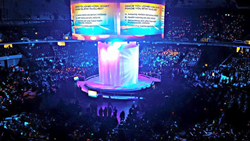 Southlake, TX (PRWEB) June 16, 2016
HOSA-Future Health Professionals, the largest international organization for middle school, high school, and postsecondary/collegiate students with an interest in the health professions, will be holding its largest gathering of future health professionals in Nashville, Tennessee next week. Over 9,500 health science students, advisors, government and private sector leaders, judges, family, and guests will be gathering at the Gaylord Opryland Resort to compete, learn, network, and celebrate HOSA' 40th Anniversary with members from across the United States, Canada, Mexico, and American Samoa. Delegates will be able to take advantage of four exciting general sessions, over 100 educational symposiums, 90 exhibits from companies, universities, and nonprofit organizations, and two exhilarating speakers.
Opening remarks for HOSA's International Leadership Conference will be delivered by U.S. Surgeon General Vivek Murthy. The nation's leading spokesman for public health, Murthy is a champion of improving care and building coalitions, having devoted his career to the enhancement of global public health through education, service, clinical care and entrepreneurship. Murthy, 38, was nominated by President Barack Obama in November 2013 and then confirmed as the 19th U.S. Surgeon General in December 2014, becoming the first Indian American and the youngest person to hold the position in recent history.
HOSA-Future Health Professionals is inducting lifetime members into HOSA's Hall of Fame for extraordinary contributions and service and for serving as a pillar of strength to the organization by helping to develop future leaders of the health industry. These corporate partners, associations and government agencies have been significant, substantial and everlasting. They are:
Corporate Partners

CVS Health - Ernie DuPont, Senior Director Workforce Initiatives, accepted by Charnita Young
Deloitte -- Dr. Bruce Green, Director & Chief Medical Officer
HCA-Hospital Corporation of America – Jennifer Berres, Vice President of Talent Management & Scott Waldrop, Director of Operations
Associations

ACTE-Health Science Education Division - Gina Riggs, President-Elect, ACTE
National Technical Honor Society - Kate Allen, Chief Operating Officer
Health Professions Network - Lynn Brooks, Executive Director
National Consortium for Health Science Education - Phyllis Johnson, Executive Committee Chair
Government

Medical Reserve Corps - CAPT Robert Tosatto, Director
Office of the Assistant Secretary for Preparedness and Response – Don Boyce, Deputy Assistant Secretary, Office of
Emergency Management, Health & Human Services

United States Public Health Service – CDR Thomas Pryor
Brad Montague will deliver an awesome address as a part of HOSA's 40th Anniversary Celebration! Brad is an award-winning writer, director and creator of Kid President, which began its life online and has grown into a New York Times bestselling book, television series, and movement for good among families, children, and classrooms around the world. He is also the force behind 'Socktober' – an annual social campaign designed to help connect communities to their local homeless shelters and GO! Camp - a week long experience for teenagers who want to change the world.
Over 6,500 competitors will be competing in one of HOSA's 57 health-related competitive events. These competitors won at their local, regional, state, and country competitions to earn their spot at HOSA's 2016 International Leadership Conference! A few of the 57 competitions include: Biomedical Laboratory Science, Clinical Nursing, Dental Science, Forensic Medicine, Medical Math, Pharmacology, Public Health, Medical Innovations, Behavioral Health, EMT and Sports Medicine.
For more information on HOSA's International Leadership Conference, visit – nlc.hosa.org.
About HOSA
HOSA–Future Health Professionals is the largest national organization operating in schools for students enrolled in health science and biomedical sciences programs and serving those interested in pursuit of careers in health and biomedical professions. HOSA's purpose is to develop leadership and technical competencies through a program of motivation, awareness and recognition, which is an integral part of the instructional program. This student-led organization provides opportunities for students to practice and refine their academic, technical, leadership, and teamwork skills to achieve seamless transition from education to careers.
In 2015-2016, HOSA membership exceeded 200,000 in 4,200 chapters in 48 state associations, including Puerto Rico, American Samoa, Canada, Italy and Mexico, with 48% ethnic diversity. Since 1976, HOSA has served 2.5 million students interested in pursuing careers in health. HOSA is the vital pipeline for the health industry—an industry that is projected to add 5.0 million jobs between 2012 and 2022, growing faster than jobs across all other sectors.
###
http://www.hosa.org
For Additional Information Contact:
Bobby Crandall
bobby.crandall(at)hosa(dot)org
972.874.0062