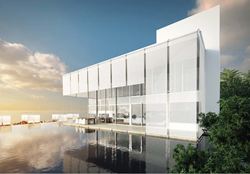 "His architecture has a soul. His exquisite work falls precisely in line with the caliber of Engel & Völkers' premium portfolio." -- Karen Sanchez
(PRWEB) June 17, 2016
European based luxury real estate brand, Engel & Völkers, is proud to work with internationally acclaimed architect, Miguel Angel Aragonés, who stands apart with his latest development, Mar Adentro – a one-of-a-kind hotel and residential complex in Los Cabos. Taking the lead in listing the magnificent property, where time comes to a standstill, is a dynamic team of advisors from Engel & Völkers Beverly Hills, Karen Sanchez and Yawar Charlie.
"Miguel is a truly gifted architect and we are honored to be involved with this project," says Sanchez. "His architecture has a soul. His exquisite work falls precisely in line with the caliber of Engel & Völkers' premium portfolio."
As the first contemporary, luxury development in the region of its kind, the concept of Mar Adentro was built on the ideals of well-being, relaxation, and peace of mind, aimed at creating a unity between individuals and their surrounding. Brought to life through the creativity and vision of Aragonés, Mar Adentro is the second high-end residence and resort development in Mexico for Grupo Encanto. Furnished and equipped to perfection with the best the market has to offer, the complex features 143 five-star suites, 60 private residences, and 18 estates, complete with rooftop and terrace pools, as well as interactive connectivity, the epitome of ease – everything is simply a click or phone call away.
For the select few who have the opportunity to own a home outside of their main country of residence, unsurpassed elegance and style is brought to life in the architectural opus. With unmatched services and amenities set as a top priority, the Los Cabos marvel promises guests and residents unwavering class, comfort, privacy, and security.
About Engel & Völkers
Since its establishment in 1977 as a specialty boutique providing exclusive, high-end real estate services in Hamburg, Germany, Engel & Völkers has become one of the world's leading companies specializing in the sale and lease of premium residential and commercial property and yachts. Engel & Völkers currently operates a global network of real estate advisors in more than 700 residential brokerages and 75 commercial offices spanning 36 countries across 4 continents, offering both private and institutional clients a professionally tailored range of luxury services. It established its North America corporate headquarters in 2007 and opened its first brokerage in the same year. Committed to exceptional service, Engel & Völkers supports its advisors with an array of premium quality business services, marketing programs and tools, multiple platforms for mobile, social and web, as well as access to its global network of real estate professionals, property listings and market data.
# # #
For more information please contact:
Sheela Shouhed
Director of Communications
Sheela.Shouhed(at)evusa(dot)com